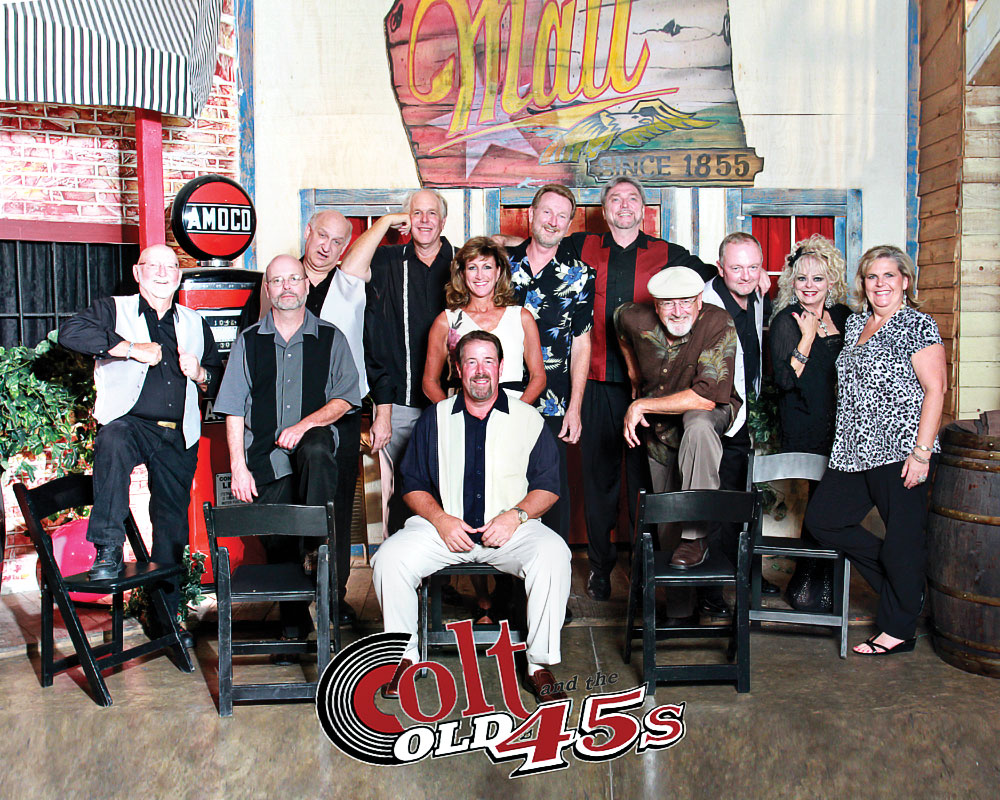 The HOA presents Colt and the Old 45s on Saturday, July 13, 2019, 7:30–9:00 p.m. Ticket price is $28 per person. The show will be in the Clubhouse Auditorium.
Returning to Robson Ranch! Initially a three-member band in 2007, Colt and the Old 45s quickly grew to an eleven-member band in less than twelve months. Impressing and entertaining audiences with their rock-n-roll covers from the late '50s, '60s and early '70s, as well as some of their own well-received original compositions, Colt and the Old 45s is comprised of as talented an ensemble of musicians and singers as you will ever see and hear.
From their lead male vocalist with a five-octave range, to their very seasoned and talented guitarists and bass player, to their extremely entertaining and gifted keyboardist, accomplished drummer, hearty and rock-solid horn section, to their enormously talented female vocalist, this band offers decades of experience and is sure to leave you wanting more.
With a play list that spans 25 years of the most recognizable music, you will hear songs from such original artists as Roy Orbison, Del Shannon, the Righteous Brothers, The Four Seasons, Tina Turner, Lou Christie, Chicago, Jerry Lee Lewis and more; songs that will certainly rekindle memories for those who grew up listening to them and, for those younger concert goers, songs that promise to be those they will recognize and enjoy as well.
Testimonials:
"One thing I think I know something about is passion. There's really no substitute for it. And if you do something publicly, it's like air. You can't survive without it. That's what I thought about the first time I saw Colt and the Old 45s. They're terrific musicians. They're smooth and skilled. Every cover is played like they wrote it. But what really grabs you is the passion. These folks LOVE what they're doing and they're having fun. It's impossible to watch and hear them and not have fun too. Sign me up." Brad Sham, Dallas Cowboys Radio/Voice of the Dallas Cowboys – Radio Play-By-Play Member Texas Radio Hall of Fame
"Colt and the Old 45s played twice in 2014 at Heritage Ranch. They opened our 2014 Concert Series in January and really entertained our sold-out audience! We appreciated them so much that we booked them for our New Year's Eve Celebration! The band has an amazing amount of energy, but more than that, they are also great entertainers. We can't wait to have Colt and the Old 45s back at Heritage Ranch!" Eric Hoyle, Community Events Director Heritage Ranch
You can purchase your tickets at the Activities Director's desk 9:00 a.m.-4:00 p.m. Monday–Friday starting June 3.
No tickets will be sold June 28–July 7.
If you have any questions contact Shelbi Berg at 940-246-1002 or [email protected].