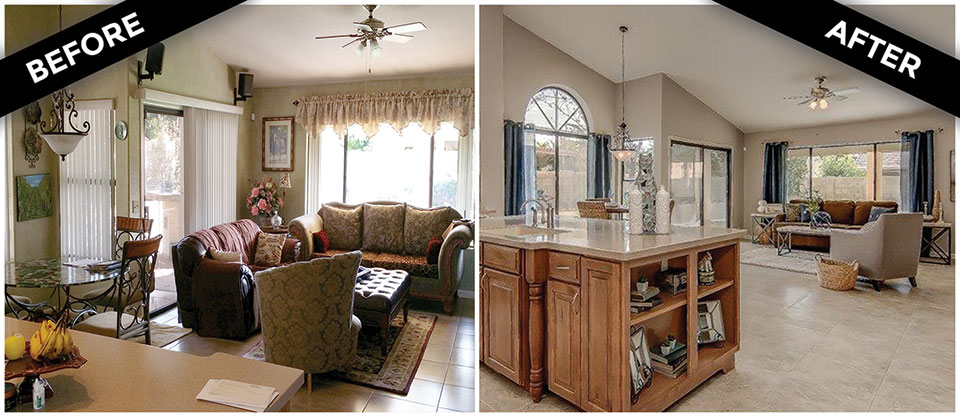 Carol Collins, Carol's Custom Draperies
Switching up your décor for the holidays makes a huge difference in your outlook at home. But beware of some common decorating mistakes that we all tend to make.
Decorating Mistake No. 1 is poor lighting. Lighting makes your room come alive, so make sure your lighting sources are strategically placed.
Decorating Mistake No. 2 is being matchy matchy. I've always been told that matching is a good thing, and it is. But don't be boring with only one color. Add small pops of color in a few different colors to complement your designs. And those end tables, use a couple of different sizes and shapes to add interest and texture to your décor.
Decorating Mistake No. 3 is the cluttered table. Don't overload your living room or bedside tables with too many pictures, knick-knacks or candles. Instead, hang your pictures in collage where they are more easily seen and enjoyed.
Decorating Mistake No. 4 is too many throw pillows. Oh, I must listen to myself on this one. In most cases simple is better. Don't overpower your bed or your sofa.
Decorating Mistake No. 5 is furniture that is either too small or too large for the area. If your space is smaller, then choose some decorative chairs for seating instead of a large sofa. The same goes for other pieces of furniture. There are always smaller options or different shapes that may fit better.
Decorating Mistake No. 6 is "postage stamp" rugs. If your rugs appear to be" floating" then they are too small. You will want the furniture to touch the rug, which will bring the room together and provide a cozier feel.
Decorating Mistake No. 7 is too little décor in the entry. You want your entryway to be inviting and make a great first impression.
Decorating Mistake No. 8 is keeping old and disliked décor for the sake of keeping it. Yes it may have looked great with your décor earlier in your life, but now it just doesn't go with anything you have. It's time to sell it, donate it and just get rid of it.
Well, I'm sure there are many more but use your inner decorator to make some good choices in decorating for the holidays.
We at Carol's want to wish you a very Happy Thanksgiving.
And as always – Happy Decorating!