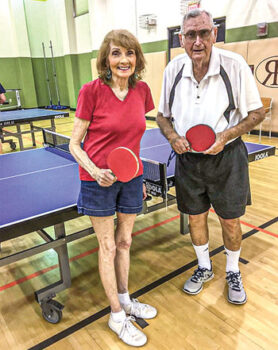 Don Pooley
The 2022 Arlene Pfeil/Jim Greg Doubles Tournament started Friday, May 13. The duration of this year's tournament is two weeks (May 13 through May 27) with teams being able to play matches during any of the club's table tennis play sessions. The tournament features a doubles team competition, with teams being determined by random draw from a pool of club members wishing to play. Round-robin tournament match pairing will be established, and teams will play matches of five games with the game's winning team awarded one point per game won. Winner of the tournament will be the team with the most total points earned.
Matches will be played during the club's normal table tennis play sessions: Monday, Wednesday, and Friday from noon to 2:30 p.m., and Sunday from 10 a.m. to noon. Stop by and watch the action as it unfolds between May 13 and May 27.
For the latest updates on the Doubles Tournament, club activities, and announcements, follow the club on Facebook at Robson Ranch Table Tennis Club, www.facebook.com/RRDTTC, or check out the Table Tennis Club bulletin board space outside the south entrance to the main Sports Center.