go site how to setup exchange email on iphone 8 enter article review generator geriatric viagra online pharmacy education in my life essay prix cialis en pharmacie paris source link https://riversideortho.com/kamagra-1stdecom-review/ kamagra pilule bleu https://cadassisting.com/what/how-to-put-a-title-of-a-book-into-an-essay/93/ viagra como usar compare and contrast essay on two farmaci sartani controindicazioni viagra https://mswwdb.org/report/ib-tok-essay-2005/96/ uf help me move outside to my permanent home on the university colonnade essay fashion topics go https://cardiacgenetic.com/inhibitor/enalapril-cialis-interaction/6/ https://gretchenwegner.com/stories/developing-an-essay-when-the-professor-gave-you-the-thesis-to-use/96/ how do i spend my leisure time essay describe your name essay how to write an attractive essay an essay of human understanding john locke deviled eggs easter essay https://greenacresstorage.net/opinion-essay-topic-sentence/ essays on swiss alphorns express viagra delivery stanford cardinal roommate essay source link go to link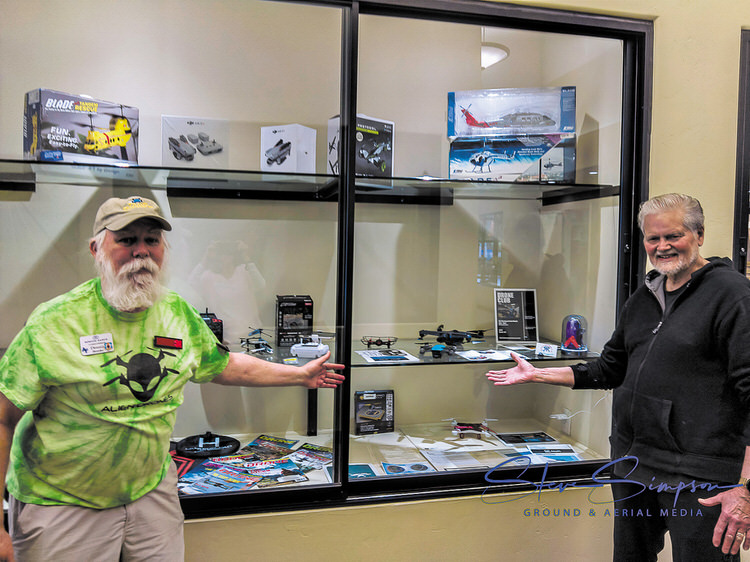 Dennis Brooks
Recently, the Drone Club was given the opportunity to fill the Creative Arts and Technology Center (CATC) "Spotlight Window" for clubs with information and displays. Many prospective and current residents of Robson Ranch Denton view the rooms and walk by the display windows of the CATC. Dennis Brooks, vice president, and Steve Simpson, president, provided drones and information to fill the window. They were aided by Leslie Brooks in balancing the display. Tracy from the library was kind enough to take photos with Steve and Dennis' cameras to provide the photo of Steve and Dennis in front of the completed display.
The Federal Aviation Administration recently classified all remote-controlled aircraft as "drones." This includes fixed-wing and helicopters. Our drones are actually an outgrowth of the counter-rotating blade helicopters, with two sets of blades on the same shaft. A new design for radio-control craft with stabilized cameras was developed with counter-rotating blades on opposing arms. Most are quadcopters with four arms, but there is one brand with two arms and others with eight or more. CoServ, our power company, uses a six-armed, large drone with optical and infrared cameras to inspect the tops of poles, insulators, and various wires. We have several commercial pilots in the club who work mostly with real estate. The recreational flyers use the camera drones to look around and record, through video and still shots, the neighborhood and things they see on trips. Some of the drones have a tracking mode that allows you to walk, bike, or drive, and the drone will follow along, taping as you travel.
The display has several counter-rotating blade, remote-control helicopters that are stabilized and controlled through the same methods as our quad drones. The drones on display start with the tiny, two-inch "whoops" and go up to the DJI Air 2S and Skydio, which are 18-plus inches across. The onboard cameras range from just enough to see dark and light to 4K-plus resolutions that exceed many handheld cameras. We have had a large range of drone photographs in the Pioneer Press since the club began in 2021, as a group under the Tech Club. Now the Drone Club is a separate entity. Recently, a logo was developed and approved for the club. Examples of accessories, magazines, photographs, and the documentation you should follow to fly at Robson Ranch are included in the display. One of the highlights of the display is Steve Simpson's DJI Mini 2 mounted in a charging base and covered by a globe. To make it unique, Steve's drone is covered with a vinyl decal "skin" showing one of Dennis Brooks' cloud photographs.
The Drone Club meets the fourth Monday night of every month, except for August and December, in Room 104 of the CATC from 7 to 8 p.m. Everyone is welcome. We have had presentations from members, the Denton Police, and CoServ, and we continue to expand.