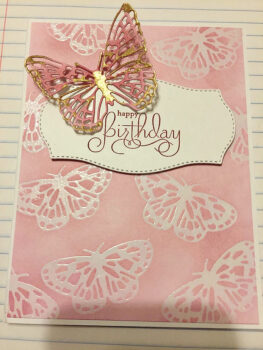 JoAnn Gantos
This card is absolutely irresistible! Thank you, Diana Krug, Sassy Stampers club president, for this beautiful emboss resist designed card. So many steps to this card design and so much fun doing all of them. Included in our card kits, Diana made a butterfly stamp for each member of the club to use. I personally can see so many possibilities for the techniques used in this card. We love the gilded flakes too! There's nothing like a little sparkle to catch your eye.
A special thanks also to Tami Fenton, technology consultant, for the expert video and demonstration for the techniques used in this card. Tami, you are a gem. Your videos are always presented in a positive manner. In addition, you always make things look easy and we all appreciate that. In this video, you mentioned that you were not pleased with your butterfly placement, but when you finished the card it turned out beautiful. We sure do miss seeing you at Robson Ranch, but know you love your new home in Weatherford.
I see there have been a few club members posting pictures of their card, as well as other versions on our Facebook page. It is so fun to see all your designs and the beautiful work. The beauty of our Sassy Stampers Facebook page is seeing the creativity of our club members.
We are moving closer to meeting in person and we couldn't be more excited. July can't get here soon enough. Stay tuned for more information as we get closer. In the meantime, Keep on Stampin'!