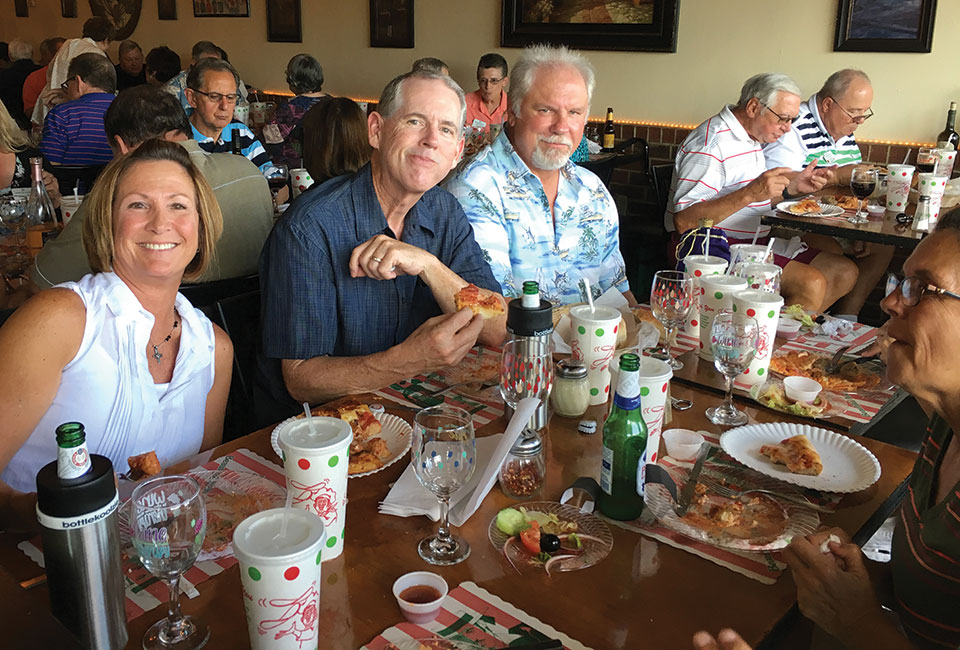 Frank Cianci
Mangia bene. Beve bene. Viva bene is an old Italian saying that tells us to "Eat well. Drink well. Live well." Another says, Mangia bene, ridi spesso, ama molto (Eat well, laugh often, love much).
Do you see a pattern here? Being Italian, or just loving Italian, usually involves food. Lots of food.
Forty-four members of the Robson Ranch "Friends of Italy" club experienced that first-hand. They filled Peter's Pizzeria in Highland Village to capacity for their recent event. Peter Pagano, who owns the restaurant with his wife, Liz, emigrated to the US from Sicily when he was two years old. Veterans of 25 years of making pizza and great Italian and Sicilian food in Ridgewood, New Jersey, Peter and Liz brought their skills and their food to Texas ten years ago. We will be forever grateful!
The Paganos served a wonderful, delicious, authentic Italian dinner. The menu included a mixed salad, freshly baked house rolls, a wide selection of pizzas and a buffet of Italian specialties. Peter makes both the thin-crust style and the thick-crust Sicilian pizza, with his homemade dough and sauce. The club enjoyed both types, topped with mozzarella cheese and meats, or mushrooms, or vegetables. The pizzeria is BYOB, so nearly everyone carried bottles of wine to the party. Mostly, it was full-bodied reds, that pair so well with Italian food. Glasses of that wine were hoisted to toasts in Italian, cin, cin, (Italy's version of cheers), or my favorite alla bellezza della vita! (to the beauty of life!)
Liz and her staff then set out a buffet of stuffed mushrooms in a garlic and white wine sauce (a recipe from Peter's Sicilian mama), eggplant rollatini (eggplant stuffed with creamy ricotta and served in sauce), and pasta in a rich and creamy vodka sauce. Next, there was the classic sausage and peppers in tomato sauce. Some plated the sausage and peppers, while others made sandwiches with those delicious homemade rolls. Peter kept the pizzas coming, even while the buffet was being served. I swear I could hear my nonna's voice saying, "mangia, mangia!" (Eat, eat!)
You would think that you could never have dessert after all that. You would be wrong. This was, after all, an Italian feast. Platters of cannoli and chocolate-covered strawberries came to our tables.
The meal is about more than just food and wine to the Italians. It's a social event. Families and friends share their day, share their lives, share their love. We did that. We ate, we drank, we laughed, we enjoyed old friends, and we made new ones.
"Buon cibo, buon vino, buoni amici,"Good food, good wine, good friends.