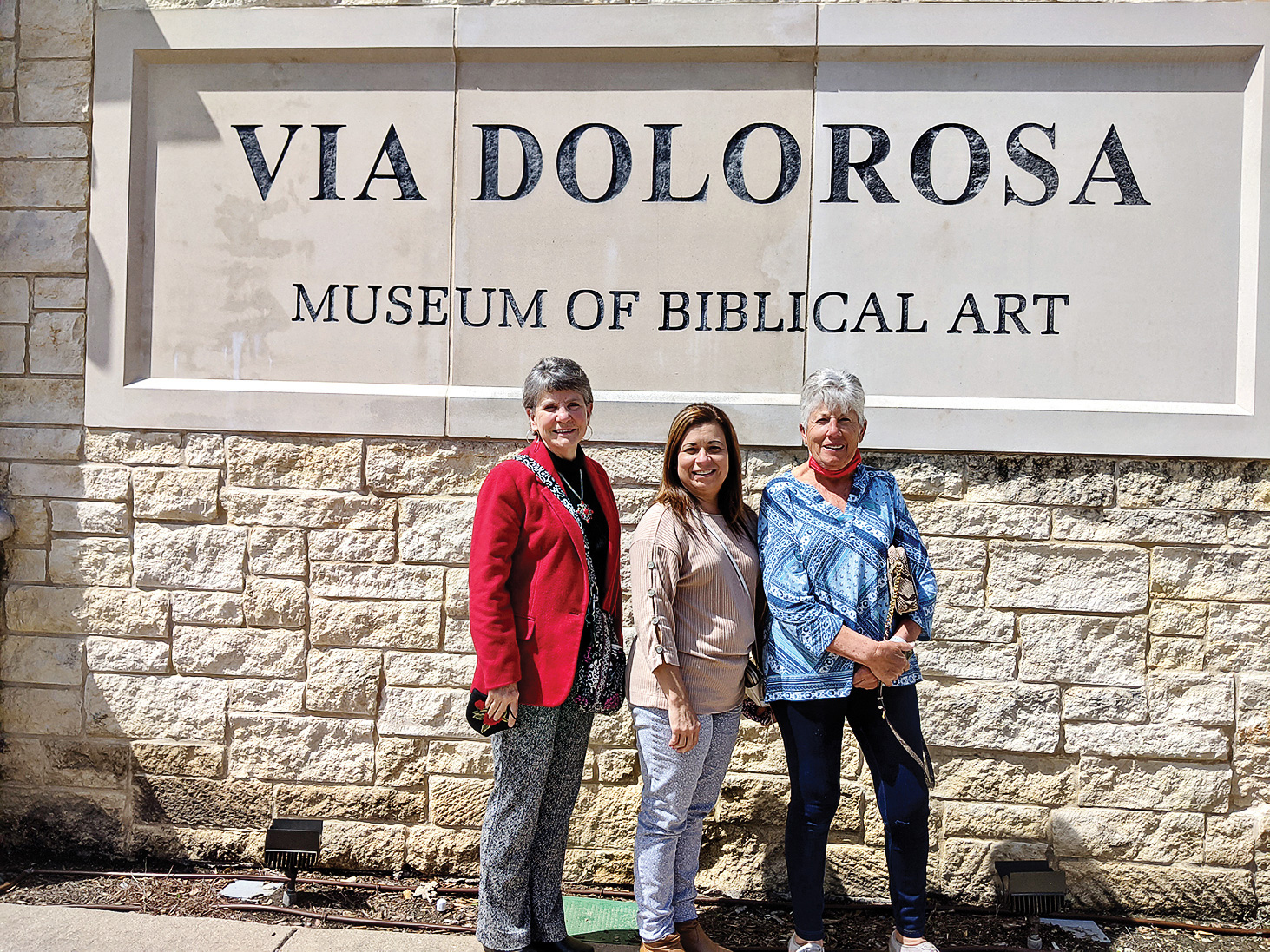 Vicki Baker
Visual art can be arresting, in the sense that it can stop us in our tracks and demand our attention. Poignant renderings of facial expressions, an intoxicating color, symbolism that invites our interpretation, wanting to both captivate our imagination and slow us to a meditative pace during these troubled times.
Girls on Wheels entered the sanctuary of the Museum of Biblical Art. For centuries, artists have drawn inspiration from biblical stories. The Museum of Biblical Art is the longtime Dallas home to a treasure trove of works of art dedicated to Christian and Hebrew themes. Throughout its 11 galleries, the boutique museum combined various styles of art, from Ancient to Renaissance to Contemporary.
Girls on Wheels "walked where Jesus walked" with the 14 life-size sculptures in the Via Dolorosa Sculpture Garden; discovered the history of Jerusalem through ancient maps; immersed ourselves in the life and artwork of the famous Renaissance artist in the Michelangelo Experience; and pondered the history of two millennia with the Tapestry of the Centuries mural, a gigantic canvas showing 350 people, places, and events from Jesus' birth to today.
We explored the collections of European, American, Jewish, and Israeli art, rare Bibles, archaeology artifacts, old masters' paintings, ancient manuscripts, art glass, contemporary mosaics, abstract sculptures, tapestries, Holocaust-themed art, and gold and silver Jewish ceremonial objects.
After several hours wandering the museum's exhibit halls, we came away with a better understanding that regardless of our faith, the Bible is an important cultural document, and one whose history and influence throughout the world cannot be denied. The Museum of Biblical Art stands as the intersection of fine arts, faith, and culture—endorsing a multicultural view of the Bible, its characters, and its stories.
The presence of such a museum was a welcome companion and a balm in these difficult times. Following a year of pandemic-forced isolation and uncertainty, Girls on Wheels embraced this chance to visit a place offering hope and inspiration; a place to get our minds off the pain and to find healing—all through the beauty of art.