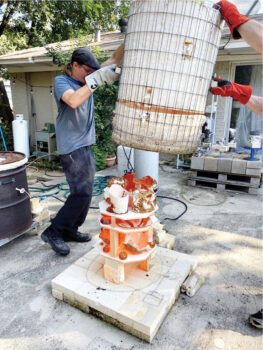 Pat Bender
The low fire method of Western Raku was experienced by 10 members of the Happy Potters on Sept. 26. The offsite Raku class was attended by Delnia Crum, Angela Daniels, Jackie Graham, Kathy Jacobs, Sally Klang, Mimi Mancuso, Lorie Shaddix, Carol Stoltz, Lucy Ventura, and Pat Bender.
Horse hair pieces were first loaded into the small kiln. The pieces, coated with a white underglaze, are heated to 1300 degrees F. Once the kiln cover is removed, strands of horse hair are placed near the red-hot vessel, burning black patterns. Many of the potters also used feathers with the horse hair to enhance their design.
The large outdoor kiln was loaded with pottery that had Raku glazes brushed on each vessel for the beautiful metallic colors. Heavy gloves are required as the outer cover is removed. The orange glow is where a Raku glaze has been added to produce copper, lapis, white crackle, and turquoise colors. The areas that are not a bright orange will remain black. It is this contrast of the black next to the metallic glazes that makes Raku so dramatic.
Many of the Raku pieces are on display at the CATC building. These Raku items will be a part of the 2021 Holiday Market.
The Pottery Studio also has the left display window full of "Pottery for Sale." You will see bowls, vases, casseroles, ornaments, mugs, and small plates, that make great hostess gifts for the holiday gift giving. All sales benefit the pottery studio, and go toward supplies, clay, and tools for the club.
Please stop by the pottery studio for a unique, one-of-a-kind holiday gift or treasure for your home.