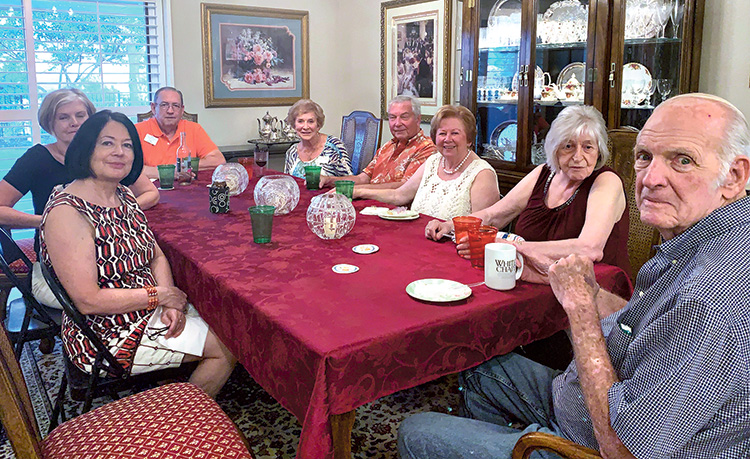 Rupa Mathur
In August, International Club members met at Martha and Vijay Michaels home on Grandview. Martha had suggested that we have a Mexican stack up dinner. She prepared the fiesta meat sauce, and the members brought other trimmings such as chopped lettuce, onions, black olives, cheddar cheese, beans, guacamole, tortilla chips, jars of salsa, and bottles of ranch dressing. Everyone stacked up the meal to their own taste, and the dinner was a great success. The sauce was absolutely delicious. Everyone enjoyed mingling with each other and had a wonderful time. We had Keith Pankhurst, a new member from Great Britain, join the group. He expressed he had a wonderful time meeting so many Robson Ranch residents from different parts of the world.
Our September meeting was held at Eileen Whittaker's home. Eileen prepared a delectable meatball dish with sauce, and the members brought either an appetizer or dessert. The meeting was well attended, and since the weather was cool, some of the members enjoyed being outdoors.
We are pleased that our membership continues to grow. We have members from Sweden, Germany, Netherlands, Great Britain, Belgium, Ireland, Denmark, Australia, New Zealand, France, Cuba, India, Brazil, Iceland, Colombia, Dominican Republic, and Brazil.
If you are a Robson Ranch resident, and are interested in becoming a member of the International Club, please contact Alfred Van Gool at [email protected] To be eligible to join the club, a member can be single or a couple. In case of a couple at least one member must be born outside of the United States and be of foreign origin.