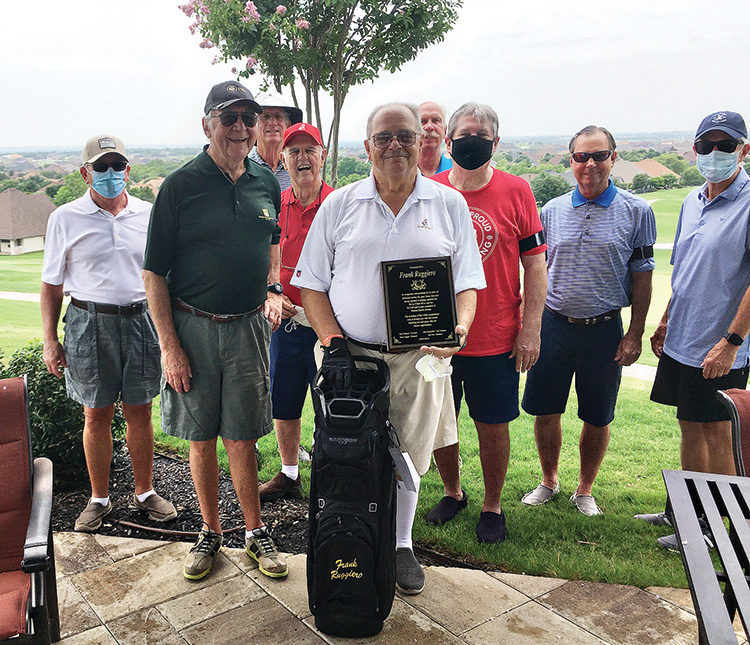 Fred Thompson, Coordinator, Nine Hole MGA
Frank has truly been a prime mover in the golf world of Robson Ranch (RR). He and wife Judy began their association with RR in 2001 and actually moved here in June 2003. Being strongly sports-minded, Frank began almost immediately making inroads via various administrative roles, being only the 2nd person to serve as vice president and then president of the MGA. Having established himself within the leadership ranks he later, at the request of Robson Arizona, formed our first Golf and Greens Committee. He also has held job positions in the pro shop and on the golf course. As a player, he is most proud to recall scoring a double eagle on hole no. 8 as witnessed by Art Tidwell.
Are golfers ever known to share a few stories? Frank and Norm Leggett were able to recall the day when you could just go out and play. Can you imagine—no green fees? Also, they were able to recall that while the course was still under construction, cart paths being built etc., we had the misfortune of having to replace many of the newly planted trees—and with no recompense from the vendor as he'd gone out of business.
Sadly, Frank and Judy have decided the time has come to move on from Robson to their new home on Florida's gulf coast. In appreciation for his many contributions to RR golf, the current officers of the club called Frank to a meeting up at the grill patio area where we all donned black arm bands and presented Frank with a commemorative plaque and a monogrammed golf bag. Frank was obviously moved by the event. Unfortunately, all good things must come to an end, but the event will for sure go down as one of many good memories Frank will cherish for many days to come.
From all we extend our best wishes to Frank and Judy as they enter this new phase of their life.