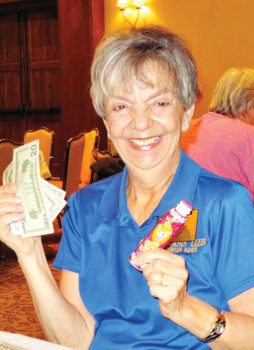 Vicki Baker
Winning is more than lining your pockets with big jackpots. It's the high of winning and the coming so close, yet so far, that signals a thrill like no other. It's the high all those lucky winners felt when yelling out "BINGO!" at the Kiwanis Club's February Bingo Blast with a total payout of $1300 in cash prizes.
The bingo session started quietly. Things didn't heat up until players had only one or two numbers left to cover. The anticipation and excitement escalated as each new bingo ball was drawn. Then it happened. The number everyone was waiting for and its fireworks and sheer ecstasy – B-I-N-G-O!
Playing bingo offered a level of entertainment everyone in the room enjoyed. And for those who don't ever play, they are missing out on a fantastic time. Ask any bingo player what they love about the game and they'll tell you, it's not the actual win but rather the enthusiasm and anxious expectations of a potential win. High hopes are what drives the player and winning is the cherry on top.
Many thanks are extended to all those who attended Bingo Blast which is a major fundraiser for the Kiwanis Club with proceeds used to support many charitable organizations in the Denton area. Didn't get in on the fun this time? Then don't miss the next game set for April 15! Come experience that bingo high!
Want to be a winner with an even greater high? Come join the Kiwanis Club on the first and third Friday of each month at 8:30 a.m. in the Clubhouse. For information contact Art Masciere at [email protected]