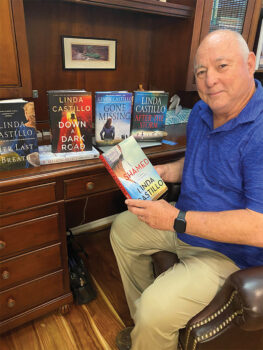 Ken Arthur
Every good author who creates a literary world in his or her novels has a niche, something special about their characters or location or the string of their plots.
Linda Castillo is not a good author, she is a great author who has created in her Kate Burkholder novels a group of characters you like, a location most of us have only vaguely heard about, and a list of plots that are intriguing, believable, and full of twists to keep the reader's mind guessing.
Linda Castillo lives in the hill country of Texas but writes about Painters Mill, Ohio, a small town with a large Amish population. Chief of Police Kate Burkholder, a former Amish, leads her small force of officers and staff in maintaining law and order in what should be a picturesque and idyllic community—but often isn't.
Most of us know the Amish from television, movies, and imagination. Linda Castillo knows them intimately and captures their deeply spiritual and honest purity while, at the same time, their humanity. The frailties, jealousies, and even hatred that all of us sometimes face are just as real to the Amish and they sometimes act on them, too.
Linda Castillo often pits the deeply rooted genuine piety of the Amish against the sometimes unkind culture of non-Amish. However, she never lets her writing become a rallying cry for coexistence. Instead, she weaves great stories and plots using the inherent struggles of the largely secluded Amish and those who cannot understand that way of life.
Another thing about Castillo's writing that the reader will find intriguing is the diverse characters she develops. Many of the people you meet in her first book, Sworn to Silence, are still around in her last books. She does a terrific job of creating people you like, admire, find humor in, and sometimes distrust. You get to know the people. Castillo always pulls off the challenging writing task of keeping her characters fresh and familiar while letting them grow through the series of novels. As an author myself, I can tell you this is profoundly difficult to do—and she's the master at it.
Linda Castillo has generously provided our Robson Library with a collection of her books. We are lucky to have them available. Be prepared. When you read the first one, you'll be hooked and won't stop until the last one has been in your hands, too. Enjoy!