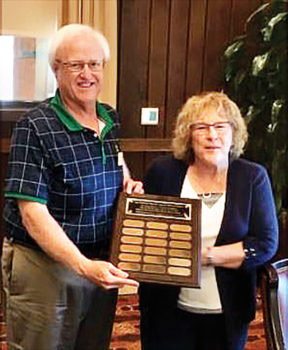 Gil Clifton, library board member
The last library board meeting was held on March 12 and ended in a surprise for Linda Terry, who is chairwoman of the library board. She was presented with a plaque on which her name had been added to honor her as a significant contributor to library activities and growth through the years. Her contributions were no accident if you consider her lifelong journey with many stops across the United States.
Linda grew up on a dairy farm in rural Pennsylvania. One day, a library was opened near her home and she had the opportunity to stop by and explore it. She was amazed with all of the books full of information and different experiences. She immediately became an avid reader, and she maintains that habit today. Later, she attended high school where she was an excellent student and was awarded a merit scholarship. One of the high school activities she remembers well was participation in 4H. She credits the meetings and interactions of 4H for planting the seeds of leadership, a trait that grew into a major strength for her. She continued her education at Juniata College, a small liberal arts institution also in Pennsylvania, receiving a B.S. Degree in Home Economics. She finished her formal education later while working, earning an M.S. Degree in School Counseling.
Linda began her professional career in education working six years in Indiana, Illinois, and Washington state. She specialized in career guidance and early use of computers which proved to be very valuable to her as she moved forward. In the 1980s, she accepted a job with the Boeing Company and was first located in Richland, Washington. In the 21 years that she worked for Boeing, she made several moves with stops in Seattle, St. Louis, and finally in Las Colinas in the Dallas area. While with Boeing, she was exposed to several different environments, including business systems, commercial airlines, and national defense. She retired ten years ago as an IT manager in business systems.
Linda and her husband, Dennis, relocated to Robson Ranch in 2008. With her love for books, she started working in the library as a volunteer in 2010, and she was named chairwoman of the library board in 2012. Since then she has worked diligently using her skills in personal interaction, leadership, and organization to make the library what it is today for the residents of Robson Ranch. She has formed the current library board, which is a group of residents with different talents and personalities, but all of whom want the library to stay a place where residents can go read, play, relax, or just meditate. Also, during the past two years, Linda has worked closely with the Friends of the Library, which has brought a range of new, entertaining activities for Robson residents.
Finally, we want to thank Linda for all of her time and energy that she has spent to make our library what it is today. Next time you see her on the Ranch, give her a hug and thank her personally for all of her efforts.