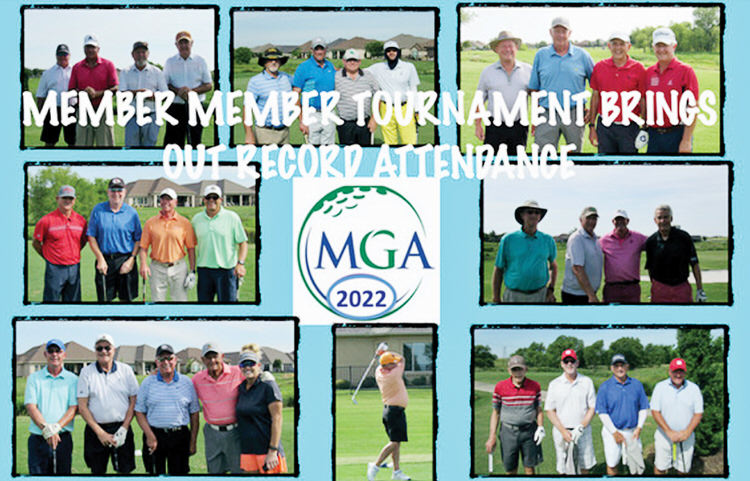 On the weekend of June 4 and 5 the Men's Golf Association hosted its Spring Member Member Tournament, and it was an overwhelming success. Over one-third of the entire membership signed up to play in what turned out to be the largest MGA members-only attended event in anyone's memory.
The format was you picked your own partner and were flighted into five flights determined by the team's total handicap. Day one had the teams playing the first nine holes as alternate shot and the second nine holes as a two-man scramble. For those who may not play golf on a regular basis, in an alternate shot format, each player takes turns hitting the ball until it is holed. It starts all over again with the next hole. It was nice to know friendships stayed intact, even though every now and then someone hit their partner's "lucky ball" into the water. In a scramble format, each team member tees off and then the best shot is chosen and both players play a ball from that spot, and so on until the ball is holed. Big hitters are always popular in this event!
Following day one was some cold beer, pulled pork sandwiches, and a lot of "what ifs" and "shoulda' beens" and, of course, what would an MGA event be without cigars under the pergola.
Day two found the teams engaged in a best ball flight on the front nine, and on the back finishing nine, a two-man shamble where both balls counted. In best ball, the two-man team takes the best "ball" or score of the two players as its team score. In the shamble, both players tee off and the best drive is taken, and both players play their own ball in from that spot. The team par for the event was 176. There was some great golf played and some "Wait until next year" golf played.
Congratulations to the winners of each flight who were as follows:
Flight One:
1st Mark Dean and Lee Griswold at -2
2nd Ed Dorman and Mike Scott at Even
3rd Mark Gronneberg and Ray Kanemeier at +1
Flight Two:
1st Bob Hanna and Mike Hodson at -1
2nd Todd Andre and Houston Bradberry at Even
3rd Russ Goodgion and David Lucas at +3
Flight Three:
1st Jim Knowles and Bill Tillman at -10
2nd Keith Brown and Greg Novitsky at +8
3rd John Brown and Don Edmonds at +11
Flight Four:
1st Bill Crawford and Leroy Schuetts at -1
2nd Bruce Conner and Don Pooley at +4
3rd John McCarthy and Steve Waggoner at +7
Flight Five:
1st Kelly Adams and Larry Borders at +2
2nd Paul Kay and Elmer Summers at +4
3rd Stephen Rynn and Tim Temperly at +14
Special thanks to T. Craig Pullen and the "It's Playday Damnit!" team for setting up such a great event and making sure everyone had a terrific time.