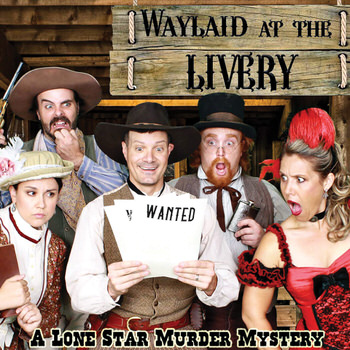 Join us for a Murder Mystery Dinner Show, "Waylaid at the Livery," on Friday, May 27. Doors open at 5:30 p.m., the buffet is at 6 p.m., and showtime is 7 p.m. Tickets are $50 per person.
Cinch up yer saddle and join the posse, That's right, ol' "Horse Face Jack" has done been put out to pasture, but instead of grazin', he's pushing up the daisies. Why would someone want to send Horse Face to the glue factory? Was he feeling his oats with Fifi, the local saloon girl? Maybe he thought the Doc should get a dose of his own medicine? Could our proper Ms. Rita Book have wanted to rewrite a chapter or two? Or was this just a case of mistaken identity? And will Marshal Courtright be able to round up the guilty party, or will he have to call in the Canadian Mounties?
Horse Face Jack might have been smelly, lazy, and an all-round rotten sort, but a shot in the back ain't no suicide. So, it's up to you, buck-a-roo, to figure out "who done it" and bring the varmint to justice.
Come enjoy a fun show, and the price includes a wonderful buffet of Chef's lasagna and Caesar salad. If you need a gluten-free or vegetarian meal, please let the Activities Director know at the time you purchase your ticket.
As always, there will also be a cash bar!
Seating will be limited to the first 100 guests at tables of 10. We will not hold seats. Purchase your tickets at the Activities Director's desk at 9 a.m. on May 9.