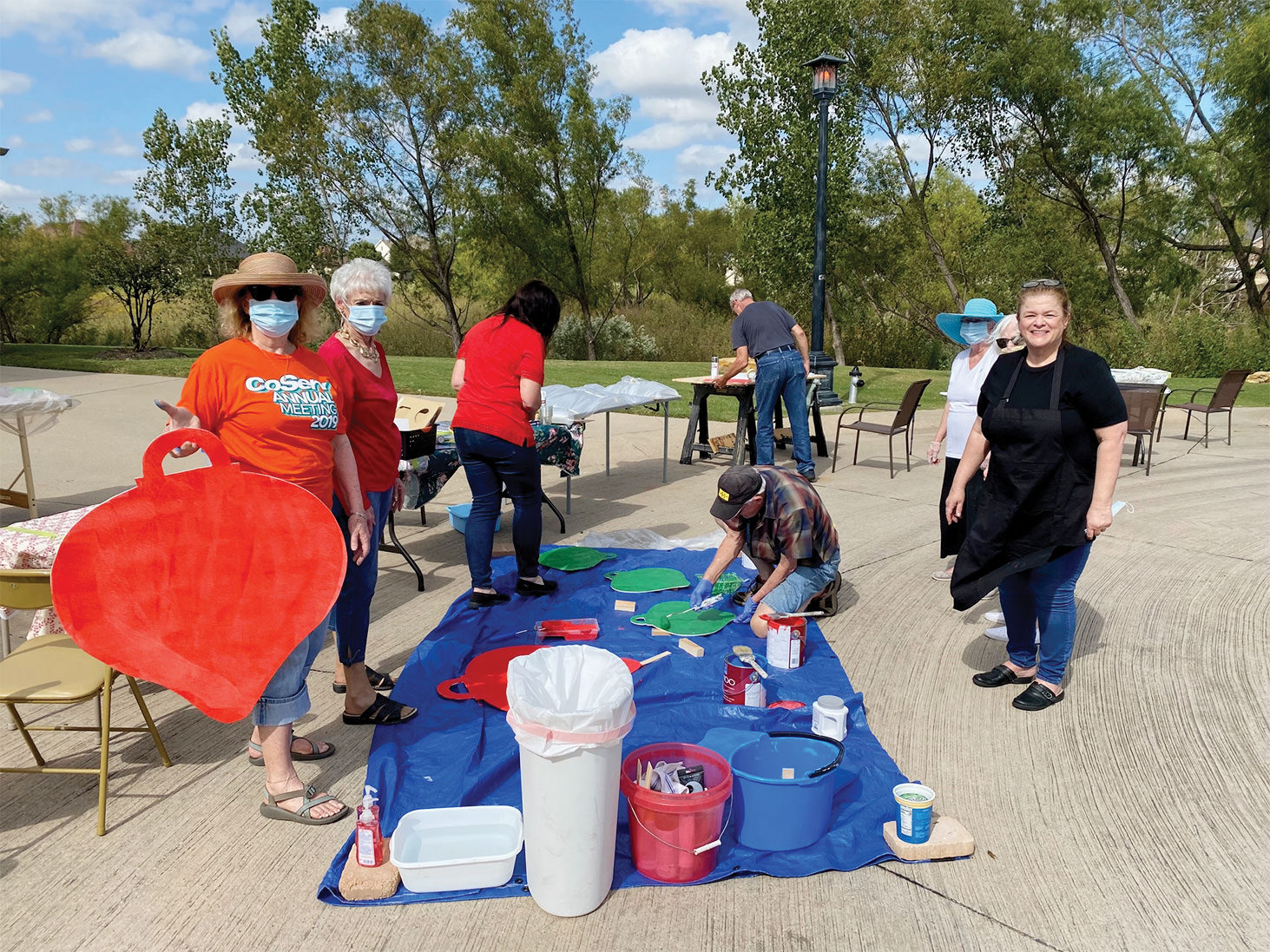 Tina Hawes and Guy Hail
One of the wonderful things about living at Robson is the way different neighborhoods and streets have chosen to display similar ornaments for Christmas. Neighborhoods have been decorated with elves, angels, nutcrackers, and colorfully-lit trees.
Invited by hand-delivered letters written by Tina Hawes, homeowners of the "Cul De Sacs" (the three courts of Lynbrook, Rosemont, and Oak Brook) met in the driveway of Tina Hawes and Guy Hail on a beautiful, sunny October afternoon to propose, debate, and choose a common theme for their lawn decorations. (All observed proper masking and distancing.)
Should the neighborhood be decorated with lights? Purchased decorations? Homemade decorations? Neighbors voted to decorate with handmade wooden lawn decorations in the shape of Christmas ornaments, one large (29 x 31 inches) and two small (21 x 20 inches) for each home.
Cal Mullins and Guy Hail bought the plywood. Cal, Guy, and Tina's brother Sam cut the plywood. Cal, Guy, and Jim Field primed the ornaments for painting. (Thanks to Cal for doing all the hard work!) Betsy and Jeff Duncan supplied the green, red, and blue paint to color the ornaments. Several people supplied gold, silver, white, yellow, and other decorative colors, as well as glitter, appliqués, and stencils. Thanks to the C-N-C woodworkers for making several wonderful stencils.
Once the primed wooden ornaments were ready, the neighbors again met at the same driveway to sketch designs, glue glitter, free hand paint curlicues, glue down wooden or paper decorations, and paint using templates of Santa, reindeer, letters, and holiday greetings.
Everyone enthusiastically worked on their own projects, generously helped with their neighbors' projects, enjoyed shared drinks and food, and delighted in the friendship of the sunny, festive painting party. Once the ornaments' paint and glue had dried, and the glitter and appliqués were solidly in place, Cal and Jim cut stakes, then mounted the decorations on the stakes which could be driven into the ground to hold it in place.
Drive by the Cul-De-Sacs off Cypress Street this holiday season to see the neighborhood's homemade ornaments, lit by solar or electrical spot lights.