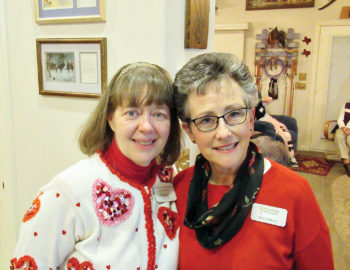 Sherry Zeise
When admonished to "Show the Love," that's what you find with New Life Church Lunch Bunch at the home of Norm and Peggy Zilinsky! Peggy's loving heart showed her love throughout the house with the help of her awesome quilting and stitching skills. We felt it, too, as we were warmly welcomed and treated to a gift box of goodies!
Our ladies brought delicious, special entrees, sides and beautiful, wonderful desserts.
We also heard from candidate Dianne Edmondson, giving an update on her campaign for County Commissioner-Precinct 4, and a request for prayer support and help to get the vote out.
Do you ever find yourself eager to do a project, only to be told, "You can't do that; you're too old!" That's when your inner youth rises up to announce, "Oh, just watch me!" Well, that's what we heard from Kim Wilkins, member of Fellowship at the Ranch, as she shared her experiences on a recent mission trip.
Kim had gone on mission trips through her younger years, but the call came now, when most feel they should just take it easy. A church in Baltimore, Maryland had established a Mission-Transformation Center, in the terribly poor, crime-ridden suburb, Brooklyn, MD. Miraculously, the church had been able to buy a whole city block with two houses built in the early 1900s and a large building, suitable for training, meal prep and storage. "Come, help us," Kim heard and agreed to go.
Her day began with a prayer walk around the community, where she saw the human suffering, ugliness and need, and prayed for the Lord to help her and the other workers to make a difference there, claiming His protection for her and her team and the Mission, and that He deliver the community from the darkness that had taken over.
Kim and her team helped renovate one of the two houses, to prepare them to house teams which come later to be of help to the Mission. The rest of the day, her organizational skills were put to good use, preparing clothes to be given, stocking and arranging things in the office, and helping in any way needed.
The community has received the Mission well. Wherever you go in the area there are gang tags painted on walls and buildings, but there are none at the Mission. They are trusted and have earned the gang's respect.
Kim asked for prayers for the Mission, and for help however the Lord impressed us, but she mostly challenged us to realize that we are never too old to do something for the Lord. She asked us to take the chance to serve Him.
In closing she shared a quote from a friend of Billy Graham: "Love talked about is easily ignored. Love demonstrated is irresistible."