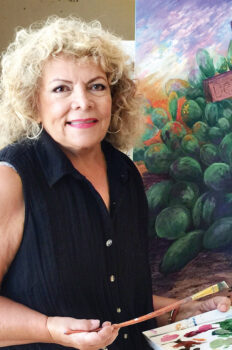 Francesca Romano
Romano will be featuring a number of her famous NYC etchings featuring the NYC skyline and the Staten Island ferries. Francesca has won over 150 awards for her etchings and her work is in permanent collections at the Staten Island Museum, the John Noble Museum, the Salmagundi Art Club, and the national Library of Congress.
Francesca became a woman in history due to her historical etchings of the Staten Island ferry and the Twin Towers. Her artwork has been collected by many notable patrons and today she remains a consultant for museums and art clubs in NYC.
She invites all Robson Ranch residents to stop by the Art/Crafts Building to view and enjoy a number of her etchings.