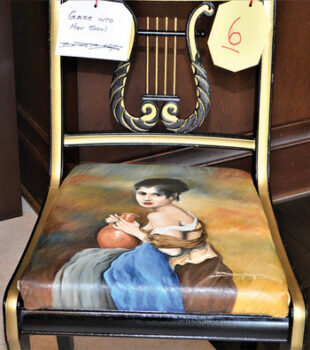 Francesca Romano, President, Paint & Palette Club
The Paint & Palette Club recently launched the very first Memorial Day Evening Floating Lanterns event. Although we had originally planned to do this at the pond area, Rhett Hubbard knew of our dilemma with the Texas winds. Therefore, we were able to use the pool area, which turned out great. Thanks, Rhett! So, we will be doing this as a yearly event with improvements.
We floated about 70 lanterns that evening and had wonderful, patriotic music that Janet Coddington provided. Jeff Whitcomb and Mike Hodson were our videographers/photographers. Thanks, guys.
I just wanted to thank the artists who helped so much with setting up this event: Heather and Mike Hodson, Kathy McMahon and her son Rob, Sandy and Bob Hestes, Jan Marx, and to all our artists who created these beautiful floats. Thank you!
We also presented a fun Painted Chair exhibition that allowed residents to bid on their favorite chairs. I am sure these chairs now have happy homes.
So, what's next? On Monday, July 18, we will offer a welcoming orientation for possible new members at 10 a.m. in Room 103 of the CATC building. Here you will meet the members of our club, and they will be on hand to discuss their many skills and media that they use.
A very special event for this day will be a demonstration and hands-on experience creating Zentangles. Come and learn how to create these beautiful designs. Materials will be available free of charge. Mark your calendars and find us in Room 103.