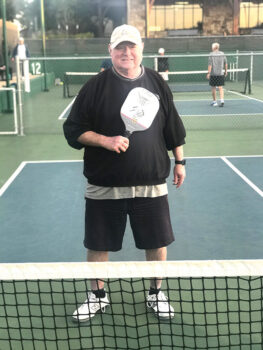 Dave Parker
This month, the Robson Ranch Pickleball Club would like to profile Forest Bell. He loves the game and you can find him on the pickleball courts most mornings. Forest is Robson's most famous chef, and is certainly our resident culinary expert.
Tell us about your family and how you ended up at Robson Ranch?
My wife Karen and I moved to Robson Ranch from McLean, Virginia, after spending over 40 years in the Washington D.C. area. We have two children, Forest III (Rusty) and Penelope. While visiting Rusty, who moved to Dallas after graduate school, we visited Robson, and liked the place right away. Everyone was friendly, and the activities seemed amazing. We didn't commit immediately, though, for fear of missing the city life; Karen and I had always lived in large metropolitan areas.
How did you get involved with pickleball?
After moving to Robson, we attended the Academy. Pickleball was great fun and we met many wonderful people; I just kept playing. The players are always friendly and competitive, but generally play for fun. In 2017 and 2018, I was asked to return to Maryland, while two different clubs searched for new chefs; I packed my paddle and found places to play while there. One of those clubs now has its own pickleball courts.
Tell us about your interesting work history?
From the time I was 12 and worked for my father (also a chef), I knew I wanted to cook. After serving in the Army, I attended the Culinary Institute of America. Upon graduation, my first full-time job was cooking for Sarah Lawrence College coeds. Then club chef jobs took me to Tennessee, West Virginia, Ohio, and three clubs in Maryland—the last, Congressional Country Club where I was executive chef for 34+ years.
While at Congressional, we hosted 12 PGA tournaments, a Senior Open, and two USGA Open tournaments; cooked for presidents when they came to play golf and for President Bush (41)'s daughter Doro prior to her marriage to Bobby Koch. When I retired, my staff (the reason for my success) included 30+ cooks, bakers, sous chefs, and pastry chefs. We had four restaurants, banquet facilities, and 3000+ members. My specialty is "good food;" a favorite among Congressional members is my Maryland crab cakes.
Any other comments on living at the Ranch or playing pickleball?
In addition to playing pickleball, I love to cook. I've donated a five-course dinner for the Support Our Troops silent auctions and have helped with the annual "Egg Fest" barbecue supporting Patriot Paws. We have also prepared gourmet dinners in our home and catered parties for Robson residents.
The Pickleball Club would like to thank Forest for volunteering this month. If you would like to join in the fun of pickleball, check out the club website at www.rrdpc.com. On the club website, you can sign up for the Pickleball Academy, which will teach new players all the basics in three evening classes.