Dan V. Jackson
Robson resident Dan V. Jackson has just released his latest novel, Rainbow Bridge. This heartwarming family-oriented tale, set principally in Arizona, seeks to answer the question asked by all who have loved and lost a dog: do we get to be with them again? For the many in the Robson communities who enjoy the companionship of a beloved canine, it is an ideal tale of faith, companionship, reassurance, and the recognition of the eternal power of a dog's love and devotion.
Rainbow Bridge is offered by Mirador Publishing and is now available in hardback, paperback, and e-book form, on Amazon.com, bn.com, and in selected bookstores across the USA.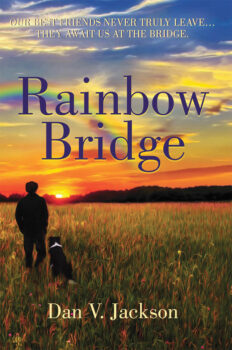 About the Book
Our dogs are our friends and companions, our guardians, and defenders. Their love and loyalty enrich our souls, and few things bring our lives greater joy than their companionship and devotion.
Until that inevitable day arrives when we have to say goodbye.
But what if that is not the final farewell? What if there comes a time and a place where we can be reunited with the dogs we have loved and lost? A magical realm of which all grieving dog owners dream, but for one man, one day it will become a reality.
At each juncture of Nathan Wilkinson's life, he experiences friendship, guidance, and personal growth from his canine companions. First comes Shiloh, the wise German shepherd of his youth; followed by Lindsay, the miniature schnauzer whose misfortune changes his life. Later, when called to serve, he befriends Georgie, the stout war dog, whose courage under fire inspires all who serve with him. Finally, there are the Labradors, whose seemingly mindless antics mask an iron-willed devotion to protecting his growing young family.
Each of these remarkable dogs shares with Nathan countless adventures, loyal companionship, and ultimately, the heartache of loss. And then one day, an unexpected tragedy provides him the chance for a brief but joyous reunion with those very same dogs, at the place where all departed pets await their human companions … the Rainbow Bridge.
What Others Are Saying About Rainbow Bridge
"I can't put into words how much I loved this book. How I didn't want it to end … Rainbow Bridge is superlative writing at its finest … with great insight and sagacity, the author shows us how dogs are indeed 'more than just animals wandering through your house; they really and truly are members of your family. And they really do love you more than anything else, even themselves'." — Kristine Lowder, Pagesandpaws.com
"I have had many dogs over my lifetime. I liked and loved them all. Rainbow Bridge speaks to that series of memories and the sweetness of remembering them. And the sorrow at losing them. Dan Jackson does a very fine job of spinning his tale. If you have a dog you love, if you have a dog that loves you, or if you ever have, you will enjoy the emotional journey as much as I did." — Andy McKinney, Payson AZ Roundup Newspaper.
Rainbow Bridge is the first of an upcoming series of similarly-themed novels that will explore the complex and heartwarming relationships we share with our canine companions.