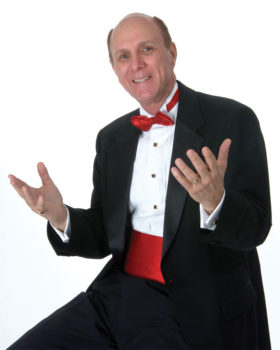 Robson Ranch HOA presents Mark Stone—Mentalist Dinner Show on Friday, April 27, 2018. Doors open at 5:30 p.m., dinner is at 6:00 with the show starting at 7:30 p.m. in the Clubhouse Ballroom. Tickets are $42 per person.
Mark Stone's MENTALMANIA is the funniest mind reading and E.S.P. show in America today. Mark never fails to astound audience members with his ability to read minds, make predictions, and "see" with his fingertips while blindfolded. He leaves audiences shaking their heads in disbelief when he demonstrates super memory, clairvoyance, and telekinesis. Not only does Mark amaze everyone with his uncanny abilities, he also keeps the audience laughing throughout the show. It's a fun and thought-provoking entertainment experience.
"Mark amazed Oprah, Johnny Carson, Dick Cavett, Chevy Chase, and Regis Philbin when he appeared on their TV shows. Mark was at Robson Ranch in April 2011, is looking forward to his return and promises to amaze you, too!"
"He's been a big hit at active adult communities all over the country. Come see what the excitement is all about!"
Still need convincing? Check out Mark's website at www.mentalistmarkstone.com. You won't be able to figure out how he does it but you'll be able to see some of the amazing things he can do.
Don't miss this ESPecially entertaining evening, a buffet meal with chicken piccata, Caesar salad, breadsticks, and peach cobbler. There will also be a cash bar!
Tickets go on sale Tuesday, March 13. You can purchase your tickets Monday–Friday from 9:00 a.m.–4:00 p.m. at the Activities Director's desk. The deadline will be Monday, April 23. Don't miss the fun!