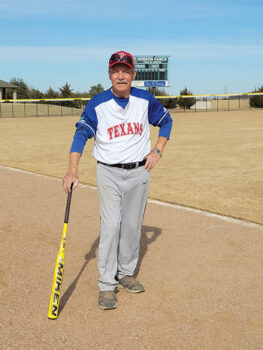 Rosemary Myers-Neagli
I paid $20 to play in this year's spring co-ed softball, and I received a jersey and ball cap. This season, Robson Ranch has eight co-ed teams, three 70+ senior teams, and two traveling teams (65+ and 70+) who all require uniforms and equipment for successful play. The travel teams incur additional expenses when they participate in out-of-town tournaments. This is where Jerry Bennett "works magic" and becomes the "face" of the Robson Ranch Softball Association (RRSA).
Jerry Bennett relocated to RR in 2018 and immediately joined softball. By 2019 he became an at-large member on the RRSA Board of Directors. His 35-year background in sales steered his expertise towards identifying and researching prospective businesses to sponsor and fund the RR co-ed, senior, and traveling teams. He is the primary contact between RRSA and sponsors, explaining to companies exactly what we need and whom they are sponsoring. He has created a brief portfolio of the teams, including team photos, stats, and testimonials, and he outlines the benefits businesses will receive in exchange for their donations. Benefits can include their company logos on our team jersey, links to their business on our RRSA website, and a company banner that can occupy one of the 40 slots along the Field of Dreams outfield fencing. At the end of our softball season, he sends each sponsor a thank you letter and invitation to participate in the RRSA Sponsor Appreciation Day (this year, it is being held on Saturday, June 11, at 11 a.m.), which features the final co-ed championship game, along with grilled hot dogs and all the trimmings. Every Robson Ranch resident is invited for the fun and free food and festivities.
The Jerry I have come to know since moving to RR and joining softball last year is well-organized, detail-oriented, and both a mild-mannered leader and great communicator. He told me that contacting prospective businesses "is not intimidating. If they say no or never respond, RRSA isn't losing anything." Instead, many businesses want to get involved in our Robson Ranch community.
Thank you, Jerry Bennett, for another fun softball season, and I will wear one of the 119 jerseys and caps that you found a sponsor for, not just during a game, but around the ranch and even off the ranch grocery shopping!
Thank you, 2022 Team Jersey Sponsors:
Adams Furniture
Corple Corral
Eagle Eye Care
Farmers Insurance
Home Window Tint
407 BBQ
MS2-USA
ProScapes Landscaping
Rodney Landscaping
State Farm Insurance
Wise Health Clinics