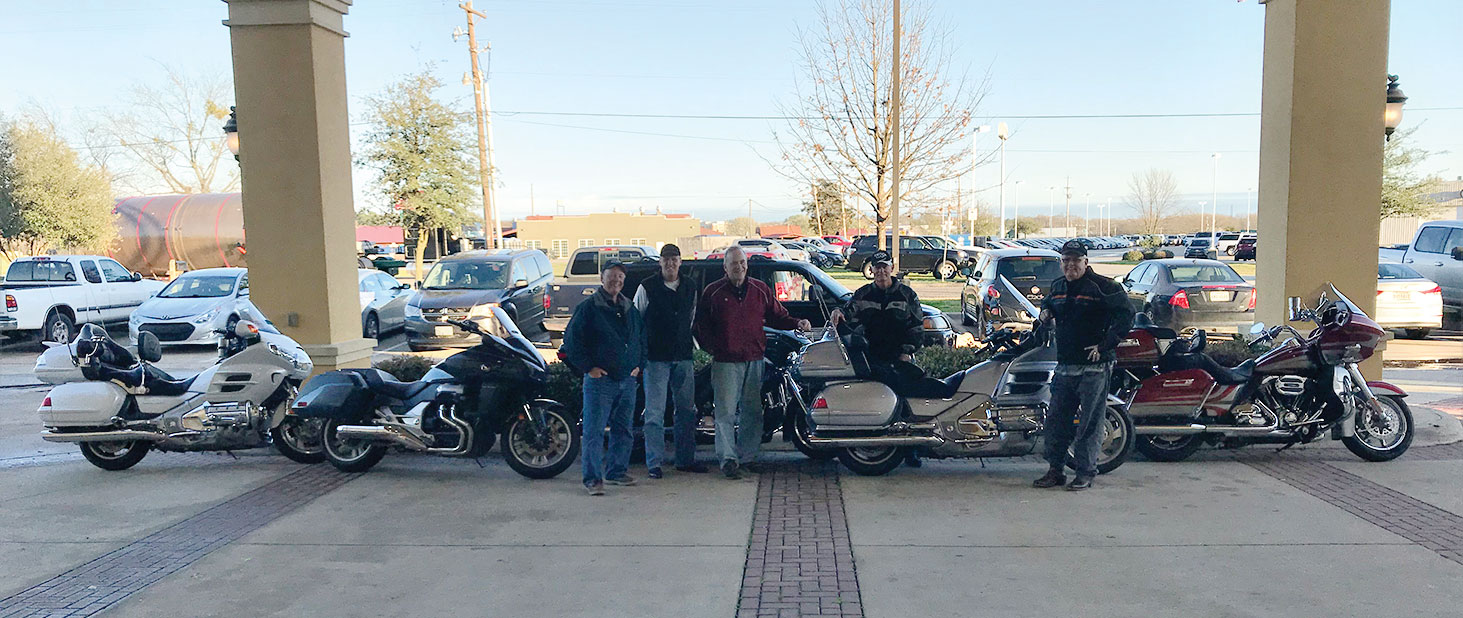 Stan Brein
I am continually amazed at the sheer number of clubs and organizations we have at the Ranch. It is not surprising given the varied backgrounds and interests of the folks living here. From sports, to crafts, to politics, to volunteerism, there is truly something for everyone's taste and interests. It's wonderful to have these activities available to us. But they could not be available if it were not for those who step forward to provide the leadership for these clubs.
Mike Conley helped restructure and energize the Robson Ranch Motorcycle Club three years ago. He has provided structure, forged regular rides and facilitated training, education and technology to make RRMC a viable entity and a real riding club. We are indebted to Scott Baker, who brings sage input from many thousands of miles of international travel. And Baker and Baker Photography provides many of the great backdrops for our social gatherings. Thank you to Dennis Dotson. Pam and Dennis have extensive motorcycle touring experience and Dennis has put together a series of exceptional multi-day rides all across the region. He also developed and presented our first safety seminar earlier this year. Stan Brein keeps club members (and the community) informed about our endeavors with the monthly Pioneer Press articles. He has also aligned us with the Denton County Coats 4 Kids Ride, our annual give-back-to-the-community event. And At-Large members Jim Sico and Dave Riddle contribute their time and expertise to help develop and promote club events. We are also blessed to have many members who are avid motorcyclists and step forward to take the reins as ride captains, ride sweeps and event coordinators. A club is only as good as its members and we have a great club!
As the weather has gotten more conducive to riding, we have ramped up our miles. The highlight of the month was the East Texas Country Stroll on March 13-14. Road Captain Dennis Dotson led Mike Conley, Steve Haugen, Doug Henderson and Steve Williams through back roads north of the Metroplex out through east Texas enjoying the two-lane scenic roads. The group stayed over in Mt. Pleasant, home of the first Wal-Mart store in Texas. One of the tour highlights was in Sulphur Springs, which has the world's most expensive and prettiest port-a-potty, made entirely with one-way mirrors. Users of the facility can see out, however, no one can see in.
On March 19 the club did a lunch run to Ernesto's Mexican Restaurant in Pilot Point. Steve Haugen stepped up as ride captain. Martin Munoz, Steve Collins, Scott and Vicki Baker, Mike and Marti Conley, Dave and Jan Riddle, Jim and Dee Sico and Roger and Sondra Hardman all went along for the ride and the cuisine.
Upcoming events include a dinner ride to Clark's Outpost Bar-B-Q in Tioga, a lunch ride to Pelican's Landing Marina in Gordonville and the five-day Arkansas stay in the Golden Era ride in May.
See you on the road!
Beware of cagers and keep the rubber side down!