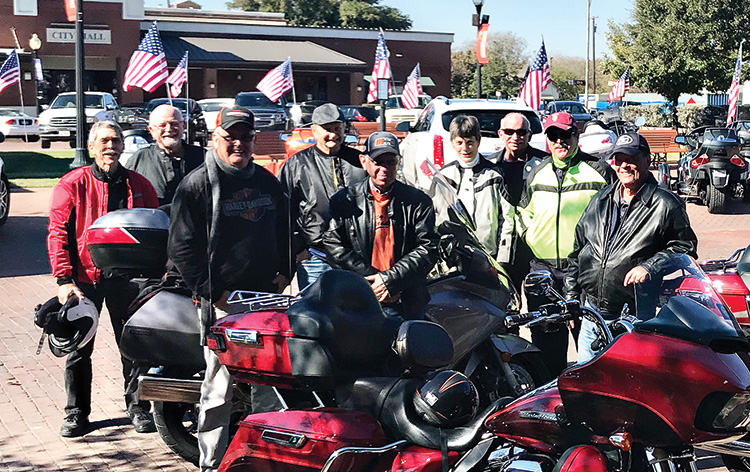 Stan Brein
One of the things we motorcyclists enjoy doing is sharing our interest in our vehicles and riding with our fellow Robson Ranchers. We had a great opportunity on Nov. 17 to do just that.
The Rollin' Ranchers Car Club invited the RR Motorcycle Club to participate in their Car Show. Their club centers on the car hobby for any type of car vehicle, for those with similar interests and those who just want to enjoy being around these great cars. What resulted was the Car and Motorcycle Showing. They could not have made the gathering any easier. All we had to do was show up, park some of our bikes alongside their wonderful collection of classic cars, meet the car club folks, and make some new friends. Members of both clubs admired the rides, swapped stories and the histories of the vehicles, and a good time was had by all. We are looking forward to more combined events in the future. If interested, their club regularly meets monthly on the second Wednesday at 5 p.m. at the clubhouse in the Patriot Room.
Our monthly dinner ride for November was on Friday the 15th. A group of Robson Ranch Motorcycle Club riders took off for Celina, Texas. It was about a one-hour ride through some very interesting terrain. We ended up in a quaint little one-hundred-year-old building housing a café called Lucy's on the Square. We had a great meal at a great price before heading back in the early afternoon. Great ride with great friends. Riders were Marti and Mike Conley, Dennis Dotson, Bill Culhane, Robert and Nancy Whipple, Jim Sico, Bob and Cherlyn Conway, Joseph Ace, Steve Williams, Dick Spivey, Steve Collins, Art Lozano and LT Bryant.
The Coats 4 Kids Ride (C4KR) took place on Sunday, Nov. 24. About 20 club members attended and we had absolutely perfect fall weather for riding. The Denton County Sheriff's Office, along with local municipal law enforcement agencies, led the way and provided a flawless escort as we made our way from the Denton ISD C.H. Collins Athletic Complex to American Eagle Harley Davidson in Corinth. We back-roaded it through north Denton County and everyone arrived safely at our destination. This year our generous neighbors and motorcycle club members contributed 137 coats and cash totaling $210 toward the purchase of new coats. So far, the coat total is 2441, far exceeding last year's total. I can only say thank you!
In this season of being thankful, we at Robson have so many blessings for which we are grateful. We know that just continuing to have the skills, abilities and health to balance a 700-pound machine and keep it in line as we go down the road is a blessing, on top of all the good fortune we are graced with. We hope that all of you enjoyed your families and each other and stayed safe and secure during the holiday season.
See you on the road!
Beware of cagers and keep the rubber side down.