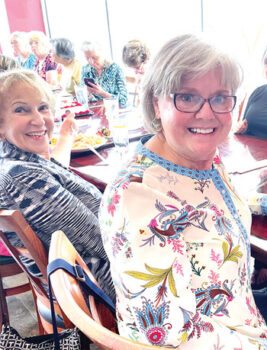 Peggy Crandell
How intrigued most of us are when we get a glimpse into how Denton County's earliest settlers lived. During the Rockin' Red Ranchers' recent docent-led tour of the Gibson-Grant Log House, this historic cabin afforded them a look into the evolution of the lives and the dwellings of these early settlers.
The house is named in recognition of its original owner, William Gibson, and for Curtis Grant, the developer who, in 2015, discovered this historic treasure as he was planning to demolish the existing house. He found the cabin inside the living room walls. Upon further investigation, it was determined the house was built by settlers who came to Texas as part of the Peters Colony, the earliest settlement in Denton County.
Because of the support of the Texas Historical Commission, the Denton County Office of History and Culture, along with backing of the community, the Gibson-Grant Log House is now available to the public for touring. The Rockin' Red Ranchers highly recommend taking an hour to experience this "step back in history" tour.
Following the cabin tour, the women gathered at a local restaurant, Noodle Swing, for a delicious Thai lunch. The afternoon was topped off with recognition of the Rockin' Red April birthdays, with a birthday cake and tons of best wishes.
A big thank you goes to Joyce Ambre and Geraldine Gawle for finding this treasure right here in our county and setting up this enjoyable afternoon out.