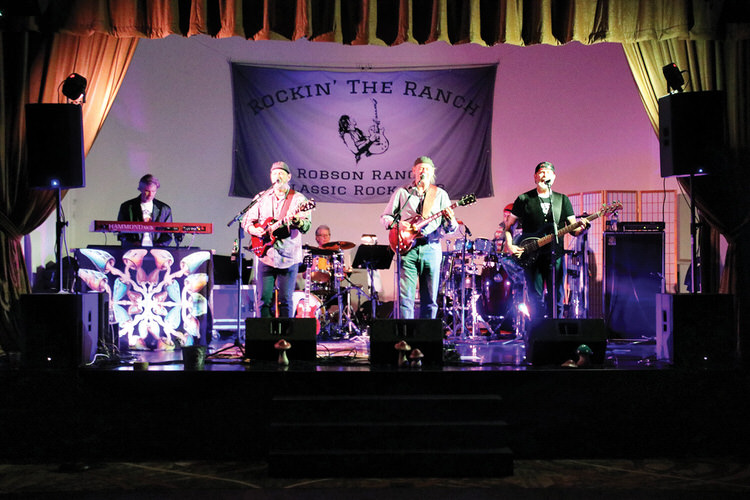 Stan Brein
Everyone was ready for some Southern Fried Rock on Friday, Feb. 18, as we welcomed Schroomville – The Allman Brothers Tribute to the Ranch. That Florida-Georgia sound came through in timeless fashion. The Allman Brothers have an unmistakable sound that incorporates elements of blues, jazz, and country music. Formed in 1969, they were unique for their time. That probably accounts for their universal appeal and varied audience.
Schroomville set the tone for the evening with "Ramblin' Man." What great guitar work. You would have thought that Dickey Betts was in the house. The melodic "Blue Sky" (which Betts wrote for his girlfriend Sandy) had great harmonies and keyboard work. Everyone was on their feet for "Midnight Rider," and "Wasted Words" also drew a crowd. And it continued. "One Way Out," "Ain't Wastin' Time," "Melissa," "In Memory of Elizabeth Reed," and my favorite, "Jessica" (shout out to JLB!). And, of course, "Whipping Post." Thank you to the band for allowing us to raffle off a few shirts. We are seeing them around the Ranch! Check out their Facebook page for more information at www.facebook.com/Schroomville.
In continuing the tradition of giving back and supporting local organizations, the Classic Rock Club presented a check for $1,000 to Our Daily Bread. Together with Monsignor King Outreach Center, they feed, shelter, and care for the homeless and at-risk in our community. We are grateful to our patrons for allowing us to make this happen.
The Robson Ranch Classic Rock Club strives to bring to you the best in DFW's Tribute Bands and Dance Bands. Next up on Saturday, March 26, is Love and Country, bringing you the great country and rock blends that we have grown accustomed to listening to in Texas. They are "a little Country ~ a little Rock 'n' Roll." You are really going to enjoy these guys. Tickets go on sale Wednesday, March 9, at 9 a.m. in the clubhouse lobby. Arrowsmith fans won't want to miss Walk This Way – Tribute to Arrowsmith on April 21. We'll pay homage to Ann and Nancy Wilson when Even It Up – Heart Tribute heats it up on May 21. Infinite Journey – The Music of Journey will satisfy the musical palate of you Steve Perry aficionados on June 24, while RedLine Drift – 70s, 80s, and 90s Classic Rock Party will again rock the clubhouse on July 30. Parrotheads! Put Aug. 27 on your calendar when Buffett Beach – Jimmy Buffett Tribute comes to the Ranch. Desperado – Eagles Tribute returns to Robson on Nov. 17, and for the holidays, Graceland Ninjaz – King of Party Bands will deck the halls.
Come see us at the Robson Ranch Clubs and Activities Open House on Saturday, March 5, and enter for a chance to win a pair of concert/dinner tickets to Love and Country.
Be in the know! Keep up with all the latest information and concert dates by following us at tinyurl.com/mr3ak647, and get on the mailing list at [email protected]
Keep on Rockin' The Ranch!