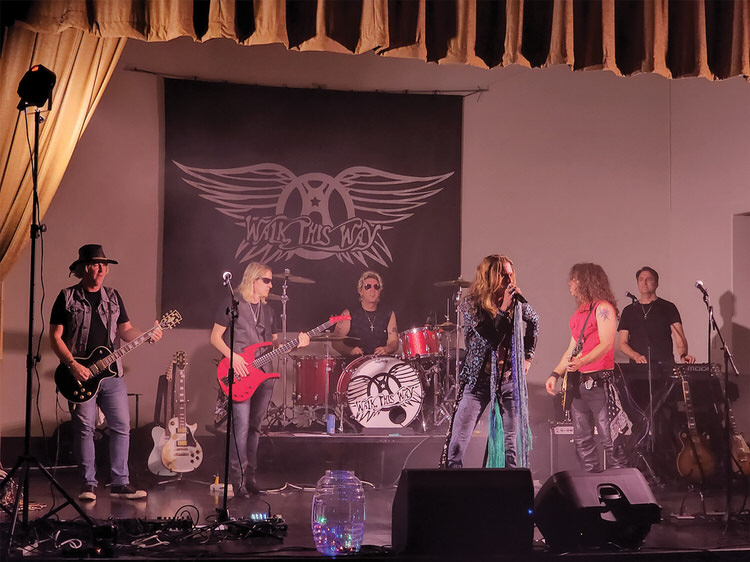 Darryl Williams
The RR Classic Rock Club continues to book the top tribute and cover bands for Robson Ranch residents in 2022, bringing back some great memories of the 70s, 80s, and 90s. So far this year, we've had Double Vision – Foreigner Experience, Schroomville – The Allman Brothers Band Tribute, and For Love & Country, with a little country music for our boot scootin' friends. On April 21 Walk This Way – A Tribute to Aerosmith kept the dance floor hopping all evening with the sights and sounds of the bad boys of Boston.
It's not just a concert; it's an experience. Our goal is to provide Robson Ranch residents with a top-quality concert, usually including dinner, without having to leave the Ranch. The bands we bring in play all the major venues in the DFW area and throughout the region.
One of our club's major tenets is to use a portion of ticket sales from select concerts to give back to the community by donating to local charities in the Denton County area, including here at Robson Ranch. Since last fall, we've donated over $5,000. Most recently, at the Walk This Way Concert, we donated $1,000 to the UNT Music Scholarship Fund.
We've got some amazing shows coming up the rest of 2022: Even It Up – The Ultimate Heart Tribute on May 21; Infinite Journey – The Music of Journey will be here June 24; Redline Drift – 60s, 70s, and 80s Classic Rock Covers will keep the dance floor full on July 30; Buffett Beach – Jimmy Buffett Tribute will have fins up on Aug. 27; Hard Night's Day – Beatles Tribute will bring the magic of the Beatles on Sept. 24. We're bringing back Desperado – Eagles Tribute on Nov. 17. Our Holiday Concert will feature the Graceland Ninjaz – The King of Party Bands on Dec. 14.
If you're interested in staying up to date with future events and ticket sales dates, just send an email with your name and phone number to [email protected] You can also follow us on our Facebook page at Robson Ranch Classic Rock Club. Hope to see you at a concert soon.