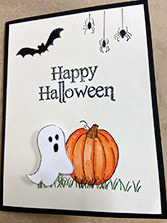 JoAnn Gantos
The Sassy Stampers met on Saturday, Oct. 16, for another great time getting together and creating a fun card that Trudi Searles designed as the project leader for October. Trudi designed this very versatile card where our members could choose either a Halloween theme or fall theme. Such cute stamps and embossing folders were available so that each card was a reflection of what you wanted it to be. The card base and papers were the same for either option, so it was truly the fun stamps that made these cards. In fact, some members brought stamps of their own to use. It was so much fun seeing what everyone made. This card design can be used for any theme, like holidays, birthdays, seasons, etc.—a very versatile design, indeed. Thank you, Trudi, for all your effort. Everyone had such a fun time at the meeting.
The 2021 year is nearing an end, and it has been another year of challenge for our club due to COVID-19. We are so grateful that we are meeting in person and look forward to a brighter future for our club. There are so many talented people in our club, and such beautiful cards are displayed near our meeting room, Room 104 of the Creative Arts & Technology Center. Please stop by and check out the cards in our display window whenever you are looking for something to do. The window display is updated every month or two, and it is so much fun to see what cards others are making. Both April Bayne and Jean Euker have a keen eye and decorating talent that really showcases our cards.
I have been stamping for only five years. There are some ladies in the club who have been stamping for 20 and 30-plus years. It is so interesting to hear them tell of tools, or rather the lack of tools, when they first started, and what is available today. Creativity and sharing ideas are what I enjoy about our Sassy Stampers club. Keep on Stampin'!