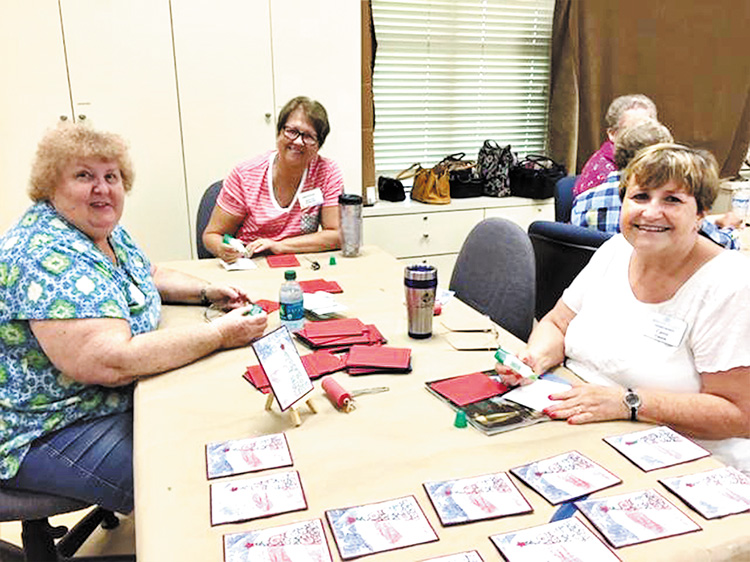 JoAnn Gantos
A very special event was organized by the Support Our Troops (SOT) committee of the Sassy Stampers Club. This special committee, comprised of Marti Goodrich, Sandy Masoner, and Deb Thomas, are making this a yearly event for the club. About three months ago, Sandy asked our club members to submit Christmas card design ideas. A final design was decided upon and then the real work began. This team of special ladies came up with a plan to mass produce this card in one session.
On Monday, Sept. 30, Sandy and team put the Sassy Stamper club volunteer members to work on specific design elements and ultimately completed 110 beautiful Christmas cards that will be sent to the troops. In addition to making this beautiful card, the assembly line approach allowed the volunteer stampers the opportunity to socialize. New friendships were made along the way too!
The SOT committee of the Sassy Stampers club organizes events throughout the year for our club to create beautiful handmade greeting cards for birthdays and thank you for your service cards. Our cards are provided to the Robson Ranch SOT Club throughout the year and are sent to military service members that are actively deployed abroad or stateside. These selfless men and servicewomen are brothers, sisters, sons, daughters, and grandchildren related to our own Robson Ranch residents.
Please stop by and see some examples of our beautiful SOT cards in the Sassy Stampers window display located in the Creative Arts & Technology building, near Room 104. In closing, a very special thank you goes out to Sandy, Marti, and Deb for all their hard work organizing this event and championing this great cause for our club year after year. In addition, a great big thank you to all the Sassy Stamper club members who volunteered for the mass production to help make these special Christmas cards a reality.