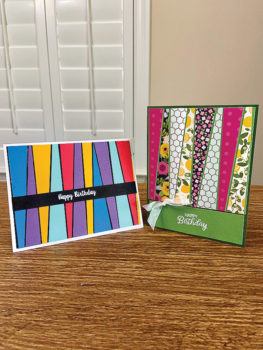 JoAnn Gantos
A great big thank you goes out to Tami Fenton, our club vice president, who created a Facebook page for our Sassy Stampers Club. Not all club members are using Facebook but a good majority were willing to embrace the new technology—Facebook live—where we watched Tami demonstrate a really versatile card for us to make at home. So, although we did not meet in person at the Creative Arts & Technology Center, we did meet virtually on Saturday, April 18.
This was no easy task for Tami. She first worked with Sassy Stamper board members to present her idea and gain approval to proceed. She communicated to our club members what she was doing and asked club members to contact her via email with their addresses. Tami created a Facebook group page and published a short video to test out the process for Facebook live. Her video was an introduction to the new technology and she was able to gain some experience with the process. Her video introduced us to what materials were needed for our upcoming Facebook Live meeting. She prepared the card packets and then hand-delivered them to our front porches.
On April 18, club members joined the Facebook Live meeting and followed along as Tami demonstrated how to assemble the "Johnny Carson card" (as Tami called it). The card reminded her of the NBC (National Broadcasting Company) peacock iconic fantail. She also made additional cards to show how versatile the card can be. During the meeting, we were able to add comments for all to see. We found out during the meeting that Diana Krug, our club president, suggested the card we made.
Although our club currently uses GroupWorks to stay connected, our Facebook page is another place where club members of the Sassy Stampers Facebook page can post pictures of cards they are making. During this unprecedented time of COVID-19, some of our club members have been very creative and productive. Support Our Troops cards are still being made and given to Mart Goodrich. Some folks have made and donated cards for local nursing homes. Others have been working on Christmas cards. Having a hobby of any kind is wonderful. Sharing with others makes it even more special.
Our next meeting is scheduled for May 16. At this time, we are not sure how we will meet. Whether in person or on Facebook Live, thanks to Tami's bravery, we have a way to stay connected. One thing is for sure, you can't keep a stamper down. Stamp on club members! And post your cards on our Facebook page.
For more information about Sassy Stampers, contact Diana Krug at 940-262-3184.