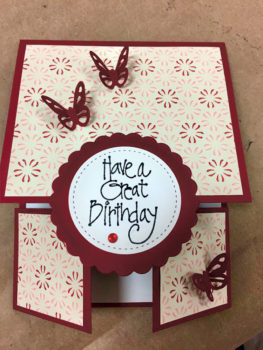 Sassy StampersJoAnn Gantos
The Sassy Stampers held their monthly meeting on Sept. 21 at 10 a.m. in Room 104 of the Creative Arts and Technology Center.
The Sassy Stampers executive team deserve a special shout out this month for their dedication to our club – Diana Krug, president; Tami Fenton, vice president; Mary Lee Garbowski, secretary; and Gloria Baer, treasurer.
JoAnn Gantos was the September project lead. This double Dutch fold card is so easy to make, yet the possibilities are endless for creative spins to consider. A special thank you to all the table teachers. Every month the project lead solicits members to take on the table teacher role and it is greatly appreciated. Table teachers assist four-five people at their table through the steps to make the card of the month.
At every meeting we are encouraged to make cards for our display window in the Creative Arts and Technology Center. With that said, we have drawings for a gift card to a local craft store for those who submit these much-needed cards.
The monthly challenge winner (making a card in the design of the previous months card – putting our own spin on the design) was Lisa Olson. The window display colors this month were orange, purple, and green. The winner this month was April Bayne. So many cute cards were submitted.
Another big thank you goes out to both April Bayne and Jean Euker who are responsible for our window display. These ladies make our cards look even more beautiful with their eye for detail in our window display that is maintained monthly.
Our club strongly supports the "Support Our Troops" cause. On Monday, Sept. 30, we are performing a mass assembly of Christmas cards for the troops. Everything will be done in one day – paper cutting, stamping and assembly of 115 cards will be completed. We also hold dedicated SOT days (two-three days a year) for making cards for birthdays or a patriotic thank you!
Our group also offers beginner classes at a minimal cost to get new members with little or no experience in stamping. If you are wanting to join our club, please come to one of our meetings held on the third Saturday of each month in Room 104 of the Creative Arts and Technology Center – just across the street from the pool area on the north side of the road.
If you have additional questions about Sassy Stampers, please contact Diana Krug at 940-262-3184.