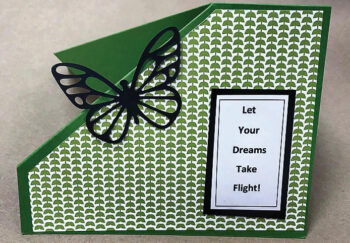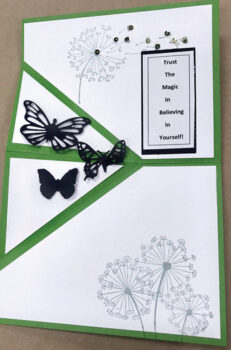 Cherlyn Conway
It was a full house at the Sassy Stampers Feb. 19 club meeting and card-making day. We had 32 ladies in attendance as the monthly business meeting was conducted and the new members were introduced. The drawing this month for the Hobby Lobby gift card went to Lynne McKeown.
The floor was then turned over to April Bayne to introduce us to the "Corner V-Fold Pop-Up Card." The kits were distributed, and the table leaders took over to guide and assist us as we made this fun and unique card. This card will be a terrific addition to our catalog of ideas for a go-to card due to its versatility and uniqueness. For those members not able to attend meetings, there are scheduled times when makeup kits are available, and the instructions and a video on the card get loaded to Sassy Stampers GroupWorks monthly.
With all the new residents moving into Robson, our club continues to grow. It's exciting and fun to meet new people and welcome them to our club. Starting in March we are going to try and hold two card-making sessions. Meetings will still be held on the third Saturday of each month with an early morning and then later morning session. We are hoping this will accommodate all who want to attend. We are considering offering some masked tables to those who would feel more comfortable being in a group setting.
The Sassy Stampers display window is changed every month, and at each meeting, the request is made for members to bring cards with them to the next meeting. Yellow, pink, and green cards were requested for the Easter window display. If you have never stopped at the display window in the CATC, see the creativity this club can inspire.
The next meeting for Sassy Stampers will be March 19 in the CATC, Room 104. Look for the HOA daily email around March 16 about the times, since we will be starting a new schedule. If you are curious about what we do, we invite anyone to join us, no previous stamping or crafting experience or tools/equipment is necessary. We would love to share with you our love of stamping and the fellowship that is shared at the meetings. You would just need to RSVP to Lisa Olson that you plan to attend, and the cost will be $3 for the first visit. Annual dues are $15, which covers the monthly kits that are made throughout the year.
If you have any questions or want to know more about the club, please contact our president Lisa Olson at 817-903-9894 or [email protected]