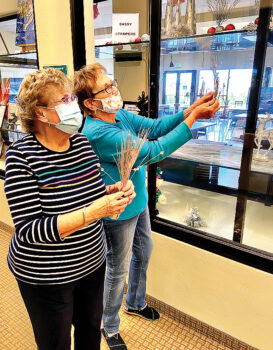 JoAnn Gantos
The Sassy Stampers Club provided the Creative Art & Technology building main spotlight display in December, as well as our own smaller display window just outside of room 104. Please stop by and see the creative handiwork (one of a kind greeting cards) that our very talented club members created. April Bayne and Jean Euker put their spin on the Creative Arts and Technology Center (CATC) main spotlight display and it is absolutely beautiful. These two ladies have been providing our club display window just outside of room 104 for six years and always do a beautiful job. Their work on the building spotlight display is a winter wonderland. April and Jean have been past president and vice president of the club and have been members for the past nine and 13 years respectively. Thank you, ladies!
What a year this has been for all of us here at Robson Ranch. The year started out with great promise for our Sassy Stampers Club. Monthly meetings in the CATC building, room 104 on every third Saturday of the month were the norm. Additional days throughout the month for working on special projects, stampathons (as we affectionately call it where club members can use our collection of stamps and dies along with our tools of the trade). Our club has grown to nearly 80 people in the 16 years here at Robson Ranch. Our last in person meeting for 2020 was in February. Thanks to our Vice President Tami Fenton and President Diana Krug, we started up Facebook live and are continuing our card making via video housed on our Facebook page. We so miss getting together, but until we can meet in person, we are thankful to meet virtually.
We are looking forward to 2021. A year where we hope to once again get back together in person. Once we do begin meeting in person, look for our meeting notices in the RR HOA emails. We will eventually be meeting again in room 104 of the CATC building at 10 a.m. every third Saturday of the month. We make multiple cards throughout the year and usually conduct a technique day during one month of the year. We end each year with an optional celebration. Club dues are $15 yearly. Beginner to experienced Stampers are all welcome into the club.
If you have further questions about our Sassy Stampers Club, please reach out to Diana Krug at 940-262-3184.