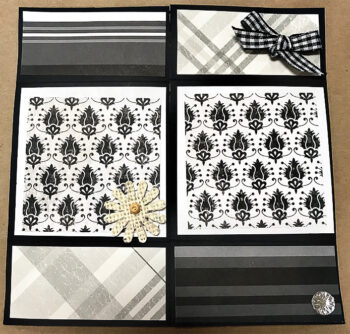 Cherlyn Conway
Sassy Stampers held the first meeting of 2022 on Jan. 15, with 28 members attending and five of those new members to the club. The new year found Lisa Olson, Sondra Hall, Denise Switzer, and Shirley Monge all new board members taking over the reins for the club.
The room was filled with fellowship and anticipation of what kind of creations were lined up for the 2022 season. The monthly meeting was held, and Pam Edwards won the drawing for a gift card for crafting supplies.
Lynne McKeown presented the card for this month, "The Impossible Card." Just as its name, it was impossible to get a good picture of this card to reveal all the twists and turns.
Like the Energizer Bunny, this card kept going and going and going. You could tell by some of our faces that we were thinking, "Can I really do this card?" Lynne reviewed the instructions and assured us that it was not as hard as it looks. With the help of our table leaders, she was right. Soon, every table was commenting how amazing this card was and the possibilities with it. It didn't matter if you were a beginner or experienced stamper. This card was for every level. Lisa Olson loaded a video to GroupWorks for a refresher for future "Impossible" card making.
Sassy Stamper has special days outside of our meeting day that we get together to make cards for a cause, such as Support Our Troops (SOT) and Operation Baby Shower. Throughout the year, there are special days like Stampathon when you can come and use all the club's tools, Technique Day, and we have two days a year to get together for SOT card making day.
If you have had some interest in what our club does, we invite you to come to a monthly meeting and see if the club is for you. No prior experience in card making is necessary. The first visit is no charge, and all supplies and tools are provided. You can join the club for dues of $15 for the year.
The dues cover all the cost for the monthly card kits provided by the club. Stop by our window in the CATC and see some of the creations! If you attended the SOT auction in 2021, no doubt you saw some of the cards donated to the auction made by club members.
Our next meeting is Feb. 19 at 10 a.m. in the CATC, Room 104. We would love to have you join us and let us encourage your creativity!
If you have any questions, please feel free to contact Lisa Olson at 817-980-9894 or [email protected]