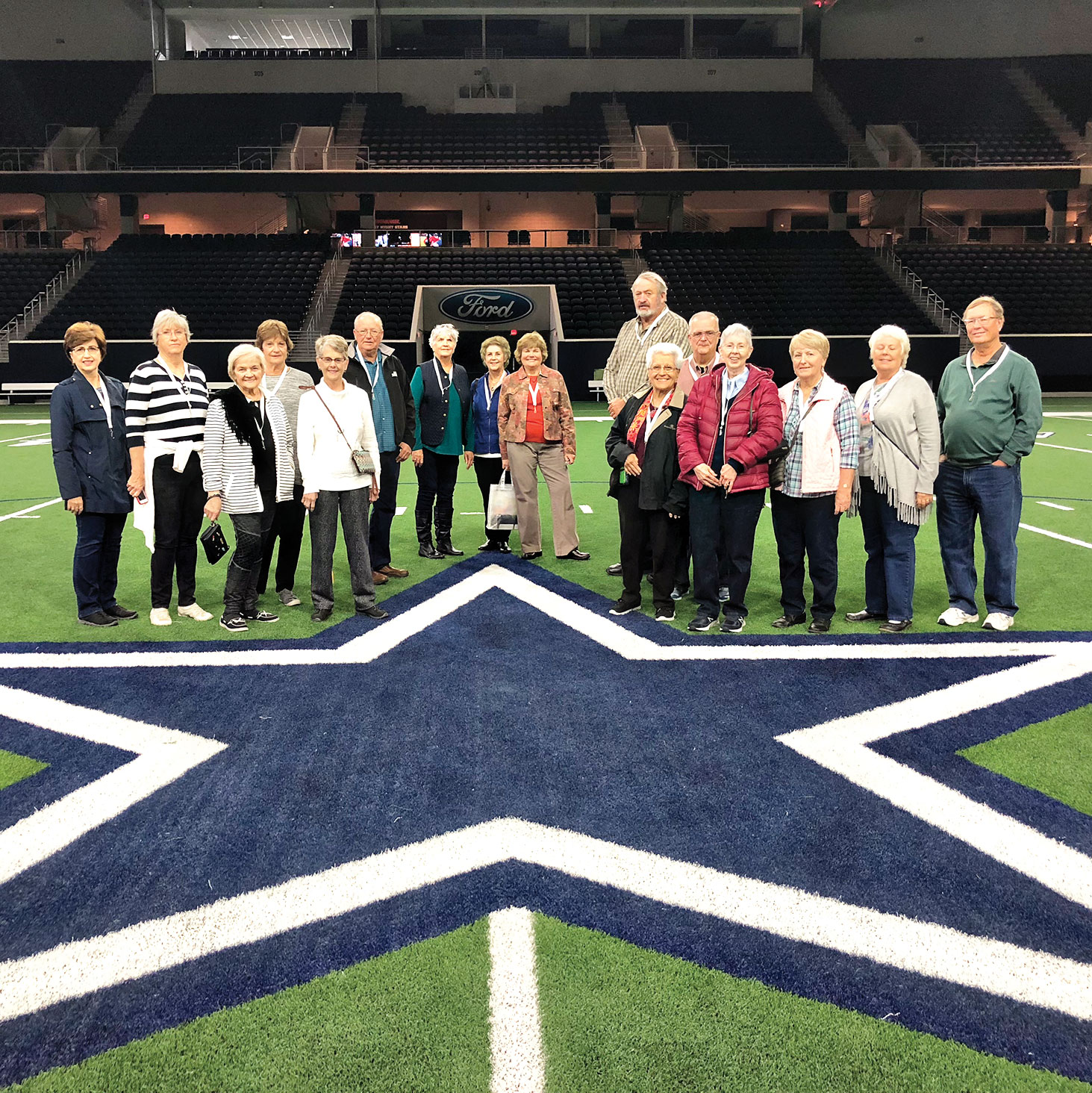 Darla Chupp
The After Schoolers Club enjoyed a VIP guided tour at the Dallas Cowboys World Corporate Headquarters at The Star in Frisco.
The Ford Center at The Star is a state-of-the art, 510,000 square-foot indoor athletic facility that can seat 12,000 people. The Nike Star Walk is a collection of the most significant milestones in Dallas Cowboys' history along with a display of the evolution of the team's uniforms dating back to 1960.
Another highlight of the tour is the display of all five Super Bowl Trophies and Rings from the years of 1971, 1977, 1992, 1993 and 1995. The Super Bowl Station is a complete collection of memorabilia from all five Super Bowl championships.
The Grand Atrium is truly Grand! …showcasing over 19,000 white LED lights embedded in 160, 40-foot long, stainless steel mirrored rods hanging from the ceiling with beautiful Italian marble floors that are adorned with names and quotes of Dallas Cowboys players and coaches. One quote that brought a smile to our faces was by Cowboys' fan favorite quarterback Don Meredith (now deceased.) "Dandy Don" was a Texas kid from Mount Vernon who played at SMU and was one of the original members of Monday Night Football. "Dandy Don" described legendary Coach Tom Landry by saying, "Coach Landry was such a perfectionist, if he married Raquel Welch he would expect her to cook." We could almost hear him sing, "Turn Out the Lights, the Party's Over" as he did so many times on Monday Night Football.
After the tour the After Schoolers enjoyed a tasty lunch at Tupelo Honey Southern Kitchen and then shopped at Fans United. It was a great day!
The After Schoolers Club meets the second Friday of each month at 10:30 a.m. in the Robson Ranch Clubhouse. If you are interested in joining this service club and would like more information, please call Darla Chupp at 940-262-1022 or Gayle England at 940-262-3234.