News from Pilot Knob Rotary Club at Robson Ranch
Karen McDaniels
On July 31, Pilot Knob Rotary held our third blood drive of the year at the Robson Ranch Clubhouse parking lot. Thank you to everyone who donated. We were happy to have a record turnout of donors even when summer donations are traditionally slow. This year the need is more urgent, as the blood supply in our area is at a 30-year low. Our next blood drive is Sept. 25. Watch our Facebook page (Pilot Knob Rotary Club) or the Carter BloodCare website for details on when to sign up to donate.
Did you know that each blood donation saves three lives? More than 1,000 donors are needed each day to keep blood on the shelves of hospitals in North, Central, and East Texas.
Our fifth Friday Social Event was hosted at the home of Jack and Dolores Kearney. We launched our Pilot Knob Wine Fellowship with a wine event from Steve's Wine Bar in Denton. Co-owner and Rotarian Karen Severance and assistant, Brian, brought several of their favorite Texas wines for tasting and shared some unique facts about the development of the wine industry in Texas.
Ernesto Sanchez and Julia Falcon from the Town of Argyle were our Aug. 13 speakers. Argyle has just launched its Municipal Development District (MDD) to keep Argyle residents and communities near Argyle informed about the town's growth projects. The MDD will soon launch the Argyle Business Association. If you have time, stop by the Argyle Police Department to meet "Blue" their official and very enthusiastic four-legged greeter!
The Pilot Knob Rotary booth at the Robson Ranch Women's Club Home and Garden show on Aug. 28 was very well attended. We want to thank everyone who stopped by our booth to learn more about the work of Rotary. We also want to thank the Argyle MDD for their donation of 200 packets of bluebonnet seeds that we gave away in our booth.
Pilot Knob Rotary meets Fridays at The Wildhorse Grill from noon to 1 p.m. Look for our sign at the entrance. Guests are always welcome. Contact Karen McDaniels at [email protected] or 512-577-6149 to learn more about Rotary and how we "Serve to Change Lives".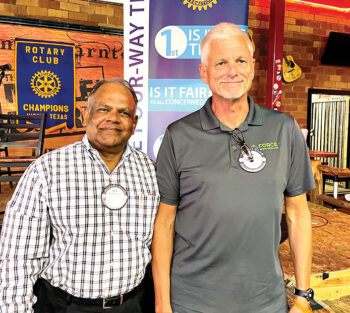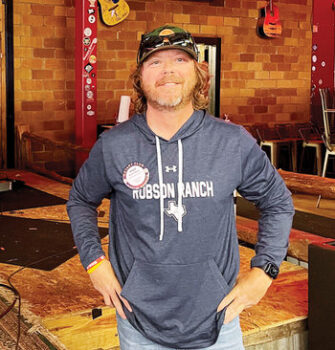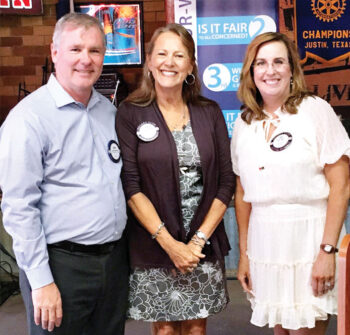 Champions Rotary Club Inducts New Members
David Everly
Rotary International is an international service organization whose stated purpose is to bring together business and professional leaders in order to provide humanitarian service and to advance goodwill and peace around the world.
CASA Director Speaks at Champions Rotary Club
David Everly
Champions Rotary Club meets every Wednesday morning from 8 to 9 a.m. for breakfast at The Mule Barn in Justin. Everyone is welcome to come.
CASA of Denton County – Court Appointed Advocates for Children
Our Mission: The mission of CASA of Denton County, Inc. is to provide trained community volunteers to advocate for the best interest of abused and neglected children and to promote community awareness about child abuse issues.
Wren Baker, Vice President and Director of Athletics
The Division of Athletics is responsible for the overall administration and management supervision of the university's intercollegiate athletic program and represents the university's athletic programs at the conference and national levels.
Wren reviewed all sports programs at UNT and updated the group on all that is new with the programs, including the New Golf Practice Facility close to the athletic dorms.
Champions Rotary Club meets from 8 to 9 a.m. every Wednesday morning for breakfast at the Mule Barn. You all come see us!