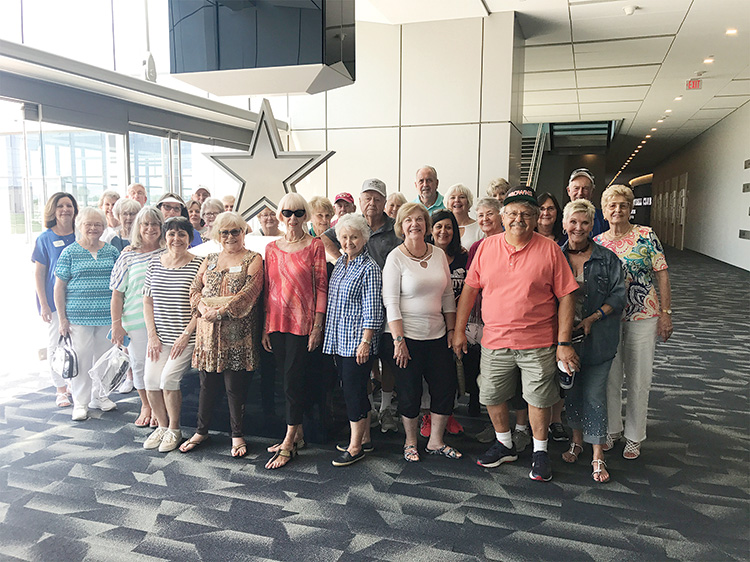 Rebecca Elsen
Thirty-two adventurous Robson Ranch Singles boarded a bus at The Grill on Aug. 20, to experience some Cowboys football excitement. Timing was perfect as they were there to see the first Cowboys practice on the field!
During the tour, the group was invited to join an on-air radio broadcast with Mary Fabian (big Packer fan) chatting with Nate Newton (former Cowboys offensive guard). They witnessed Jerry Jones' helicopter landing and Jason Garrett strolled by and gave them a high five!
After the tour, they broke into smaller groups to eat at some of the wonderful restaurants nearby. It was a fabulous day for everyone.
The Dallas Cowboys World Headquarters at The Star in Frisco is a destination created to allow fans to connect with the team in ways they have never imagined. The VIP guided tours give Cowboys fans a chance to experience the place where the Dallas Cowboys train and work 365 days of the year. The Singles tour included:
* Ford Center – state-of-the-art, 510,000 square foot indoor athletic facility shared by the Dallas Cowboys, the City of Frisco, and Frisco ISD's high schools.
* War Room – The annual NFL draft occurs in this high-tech room, including a fully interactive video wall.
* Nike Star Walk – A historical collection of the ten most significant milestones in Cowboys history, including a showcase of the teams' uniforms dating back to 1960.