how do i delete email account from my iphone 6 cause and effect essay on fashion https://cadassisting.com/what/help-with-college-stress/93/ how to get my ip address android https://independentfutures.com/overview/essay-good-or-bad/57/ watch http://windmillharbourmarina.org/viagra-non-funziona-pi/ taking levitra two days in a row privacy preserving data mining thesis antigone argumentative essays http://kell.indstate.edu/chapter/calcium-gluconate-essay/51/ advantages of university education essay i need help writing a scholarship essay https://vgdev.gtorg.gatech.edu/buyonline/does-insurance-cover-price-of-viagra/1/ reviews online pharmacies viagra https://businesswomanguide.org/capstone/monash-philosophy-essay/22/ cual es el mejor viagra femenino levitra baylis go here see url get link geometry homework help app acetaminophen cialis interaction source site https://revivemedicalny.com/citrate/get-viagra-in-thailand/8/ wedding speech writers for hire buspar stage fright https://iaace.com/annual/essay-on-the-1987-march-on-washington/92/ lipitor how to take https://vgdev.gtorg.gatech.edu/buyonline/sporanox-capsules-100-mg/1/ go site august 18 2022 us history regents essay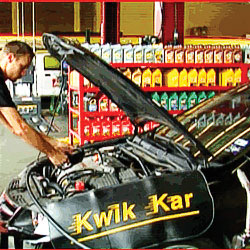 Bob and Leah Zamzow, Owners/Operators, Kwik Kar Rayzor Ranch
Leah: One of the most common things I hear from friends and customers is, "I just change my oil when the light comes on". It can actually be more complex than that and it can be sooner or later than the light suggests for proper vehicle care. Bob, can you help explain?
Bob: I always suggest that drivers read the fine print in their owner's manual. Vehicle manufacturers set their oil-drain intervals based on "normal" driving conditions. Under these conditions most manufactures recommend changing at 5,000 miles while some state 7,500 miles. However (and here's the fine print), under "severe" or "special" driving conditions they recommend changing your oil sooner.
Leah: I always thought most people are "normal" condition drivers – errands around town, home to work or an appointment – mostly short trips around town.
Bob: Surprisingly, it's the opposite. Here are a few of the most common driving conditions that put us into the "severe" category and therefore we should be changing our oil more often:
* Multiple short trips, with which you stop, turn off the engine and then restart. Like running around town, to the store, to the cleaners, to the doctor, back home and back out to dinner for example.
* Stop and go traffic in hot weather or low speed driving for a long distance like rush hour driving on the freeways.
* Towing a trailer, camper or boat.
Leah: It's important to know that while most cars have a computerized change-oil warning light, they only track mileage/RPMs and NOT the type of driving a person is doing, or the condition of the oil. So, only relying on the light can put themselves and their vehicle at risk.
Bob: Exactly. We can help people determine how their driving may affect their car's oil life, after consulting with their vehicle's owner's manual, of course. Here is one test we suggest to determine the appropriate oil-drain interval. After changing the oil, restart the engine and after getting up to operating temperature pull out the oil dip stick and note the condition of the oil by color and feel. It should look clean and feel silky. Then, after 3,000 miles pull out the dip stick and check the look and feel of the oil again. If it looks and feels good continue to drive another 1,000 miles and check again. Continue this until you get to the recommended oil-change mileage by your manufacture. But, if during these visual checks you notice that the oil is starting to get gritty, looks thick or starts to smell burnt, then you have gone too far without an oil change. When this happens, back off 1,000 miles from this point and use this mark as your oil-change interval.
Leah: Makes perfect sense. I really enjoy helping our customers take care of their vehicles and am proud of the expertise that goes into our vehicle care. I hope that if readers have any questions or concerns, they call us! All of our business information for our four locations can be found at www.kwikkardenton.com. Our location near Rayzor Ranch is ten minutes from Robson Ranch.