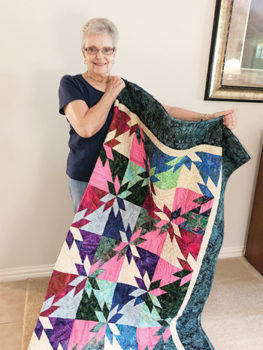 Sandi Price
Ruthie (as she likes to be called) is a long-time member of Material Girls. Before the Arts and Crafts Center was built, Material Girls met in the Sports Center Gym, setting up their own tables and tearing them back down under the impatient stares of the next group waiting to use the gym.
A small-town Minnesota gal, she moved with her husband to North Dakota in 1989 before ending up at Robson Ranch in 2005, where she took up quilting. Ruthie created her first quilt in 2004 and since then has made about 25 quilts, a good number of them for her eleven grandchildren. All but one grandchild has one of grandma's quilts, and he will get one when he is married. Most of the rest of her quilts have been given away. She loves quilting and enjoys giving away the quilts that she makes with love. She enjoys piecing but likes to make smaller projects such as table runners, small hangers and wall pieces to name a few. She has entered the North Texas State Fair three times and has ended up with three blue ribbons. Ruthie also has served as a mentor to new quilters in the Material Girls' yearly class for the last four or five years.
Ruthie watched other Material Girls using embroidery machines but had no desire to follow suit until her mentor, Marguerite Rose, wore her down, and she ended up buying her own embroidery machine. Now she splits her time between the two crafts but still says she enjoys quilting more.