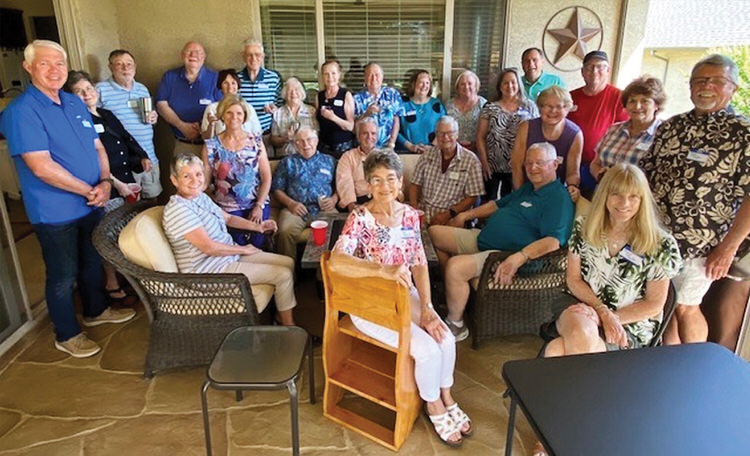 Not too long ago, our master pen maker, Loren Christensen, started a specialized subgroup in the woodshop. It is specifically for those wanting to learn the art of using the lathe to turn pens from exotic and local woods.
The Pen Club currently has 33 members and four available instructors: Loren Christensen, Steve Russell, Rick Bidne, and Bob Hestes. All members of the club must be members of the Robson Ranch Woodworkers, complete the orientation safety course in the woodshop, and take the basic pen course. This training consists of about an hour of classroom time and another hour of hands-on shop training. Then it is one-on-one training with one of the instructors. There are several steps to pen making. Each step has its unique parts and, once mastered, a pen can easily be completed in half a day.
The Pen Club meets once a month to exchange ideas, show new pen kits, compare pens, and share mistakes. Pens make lovely gifts, and we always have many to choose from in our sale window. Basic pen kits cost between $4 and $8, but fancier versions can cost up to $20. The woodshop has all the supplies and tools necessary, including two dedicated lathes for turning the wood. The wood blanks used for pens can be salvaged from wood scraps in the shop or ordered online. There are numerous exotic woods available, which have a variety of colors, as well as a large variety of acrylics to choose from. Loren showed us his collection of over 100 types of pens, which are made of wood from all over the world.
Like most groups here at the Ranch, the Woodworkers used to get together quite often at somebody's house. They would enjoy the camaraderie of others who truly enjoyed each other's company and talking about the latest projects being worked on. Of course, because of COVID-19, we haven't been able to get together socially like we used to. That all changed on April 30, when Loren and his lovely wife Lenie hosted the RR Pen Club on their patio. This was a great evening of delicious brats, hot dogs, several salads, side dishes, and three delightful desserts, compliments of Lenie's wonderful talents in the kitchen! Big thanks to Loren and Lenie for opening your home and getting the group together for a great evening of fun!