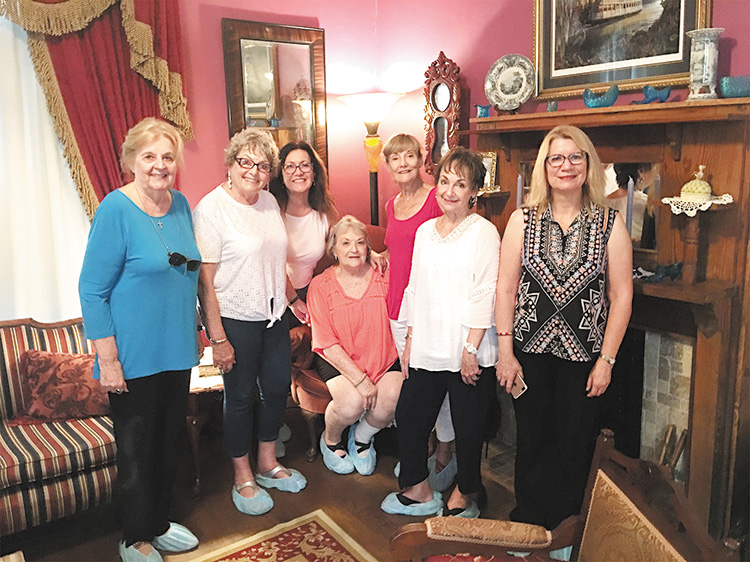 Peggy Crandell
After the Happy Booker's read Mitchel Whitington's captivating book about the history of Jefferson, we promptly planned a two-night/three-day trip to this East Texas town to make this book come alive for us.
Arriving at lunch time, we dined in a unique restaurant, Kitt's Kornbread. We feasted on sandwiches served on slices of their special kornbread, along with chicken n' dumplings and homemade pie. Kitt's staff showed us true southern hospitality and sent us all away with large to-go cups of their marvelous sweet tea.
Rising early our first morning, we went on a boat tour of Caddo Lake, the only natural lake in Texas. Rich, our guide, assured us 7:30 a.m. is the best time on the lake to catch sight of waterfowl, alligators, turtles, frogs, snakes, raccoons, minks, nutria, beavers, and squirrels, along with the beautiful lotus blossoms that are only open in the mornings. We all agreed the beauty and history of Caddo Lake is incredible.
After a scrumptious gourmet breakfast at The Carriage House, we were off to tour "The Grove," the eighth most haunted house in Texas, built in 1861. It so happens our author, Mitchel, lives in The Grove along with numerous ghosts and spirits. We heard the fascinating history of the house including true supernatural experiences of the owners, past and present. Sitting in the front parlor, especially in one particular chair, and following the footsteps of the mysterious Lady in White were just a part of this amazing tour. And it was such a treat for us to meet and visit with the author of our book.
In our short three days, we filled the time with visiting the Jefferson Historical Museum, two historic downtown hotels, marvelous art galleries and boutiques, a guided tour of the historical district filled with quaint homes, all having intriguing stories. And walking the old cemetery was a must; we found the graves of many significant Jeffersonians, like Captain William Perry, Diamond Bessie, and two gunfighters, Jesse Robinson and Bill Rose, who shot each other and are buried in a double hole, their grave markers chained together.
Our book club agrees if reading a history book such as Jefferson: The History & Mystery of the City on the Bayou leads to this much fun and adventure, we will definitely read another. We recommend Jefferson for a getaway in Texas!