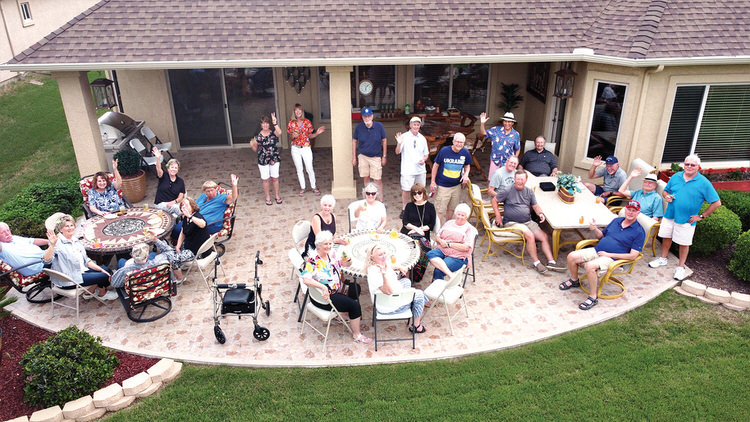 Linda Bono
The Crestview Drive/Maryland Court green space residents have been enjoying a fun tradition for a long time. Every spring and fall, the green space neighbors gather for a progressive party of cocktails and hearty finger foods at various houses along the green space, all sharing a lovely "creek view." Actually, "the creek" is the drainage area that all our yards flow into in a Texas downpour. Like many Texas creeks, it's a dry bed until there's a heavy rainfall, but the water accumulates quickly and flows swiftly in a heavy rain. Someone affectionately referred to it as "the canyon creek" early on, and the name has stuck. In a heavy rain, it's truly an apt description. Fortunately, so far, Mother Nature has smiled on the semiannual parties each year, and there's never been rain for the events. That's a good thing, since there are plans for outdoor gatherings where we all enjoy camaraderie and the beauty of the seasons changing from winter to spring, summer to fall.
Dubbed The Spring Roll and The Fall Crawl when the tradition started in the Fall of 2011, the parties have continued semi annually since then, except for their cancellation in "the 2020 pandemic year." Happily, The Spring Roll and The Fall Crawl returned in 2021 with renewed enthusiasm, and on May 1, 2022, the 10th Annual Spring Roll was held. A fun time was had by all!
Crestview Drive resident Lois Reinhart is the person we all thank for planning The Roll and The Crawl each year. To the delight of everyone on the green space, she keeps both events organized, happening, and fun. So, what's the plan? In the spring, the Maryland Court houses choose a House Cocktail to serve on their patios, and the Crestview Drive houses bring a different food to each assigned house, and in the fall, drinks and food are reversed. Surprisingly, although it's often a mix of seemingly very odd combinations of food and drink, it always works!
Thirty-one people attended this year's Spring Roll. The House Cocktails served were Peach Bellinis, Caribbean Jamaican Rum drinks, Orange Dreamsicle Martinis, Whiskey Slushes, Butter Beers, Lynchburg Lemonades, Peach Smoothies, and Dessert Mudslides. Accompanying foods included pizza bites, bacon-wrapped little smokies, spring pasta salad, meatballs in biscuits, various little sandwiches, snack-size bags of salty munchies, grilled brats, and homemade chocolate chip cookies for dessert. It was a feast!
Curious to find out about "Pub Crawls" when I started to write this article, I searched online to learn a little more. It turns out that it's not so unusual to enjoy this type of celebration. There are all sorts of themed bar and pub crawls throughout the world. An interesting one I found is at Epcot in Walt Disney World, where guests often do a form of bar crawl known as Drink Around the World, attempting to drink at all 11 countries of World Showcase. Impressive!