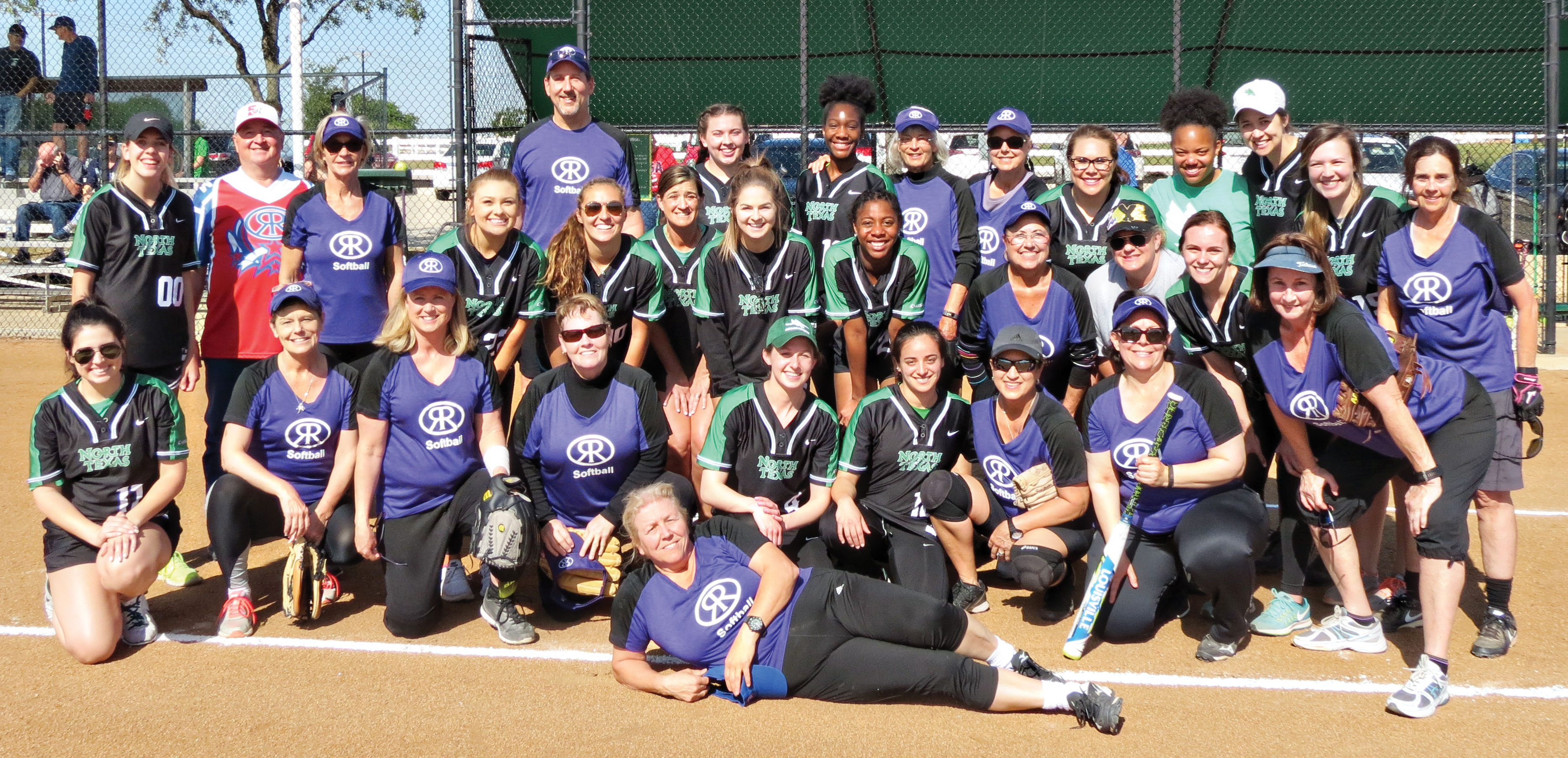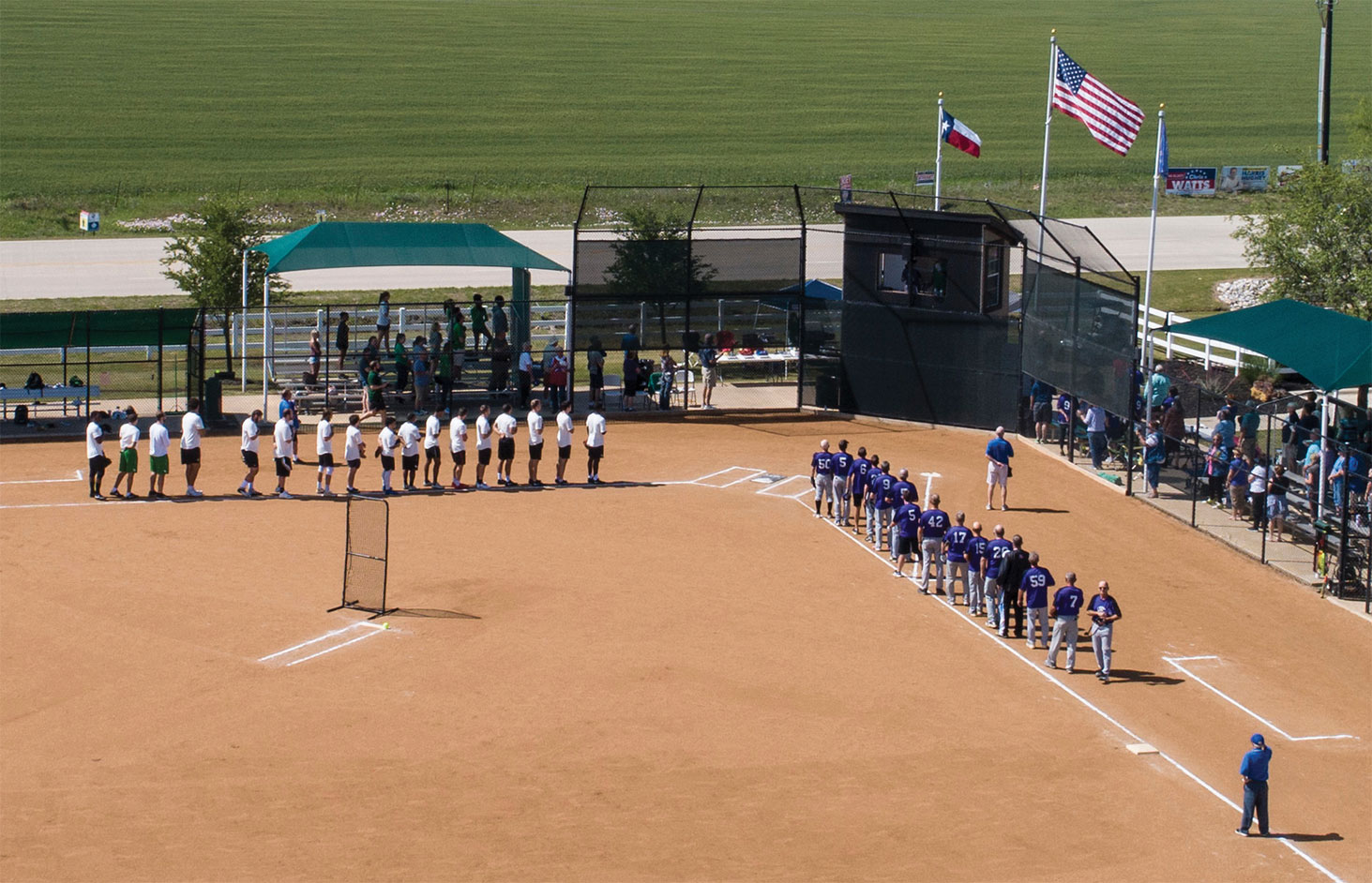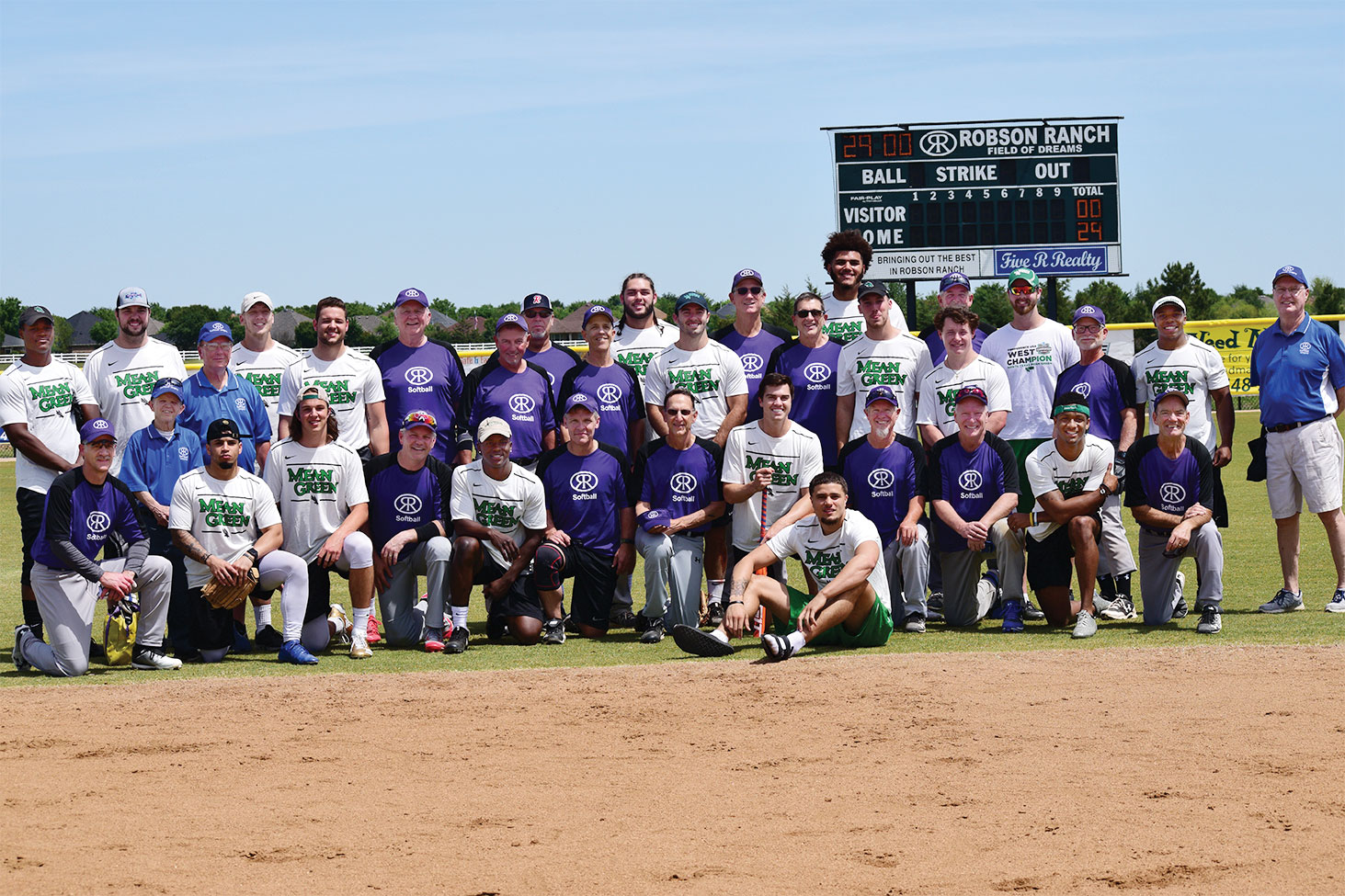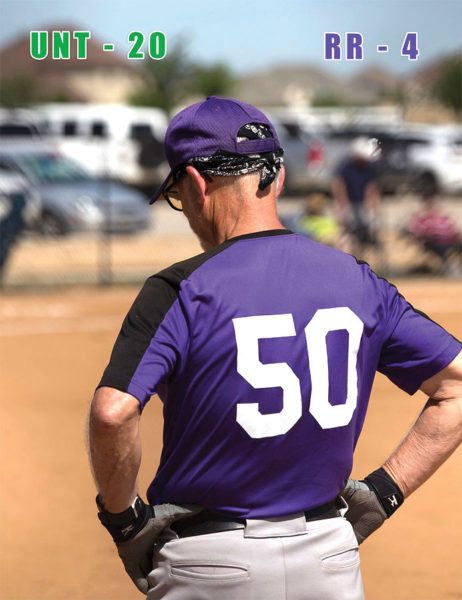 Gorgeous Texas Day! Field of Dreams in its best shape ever, and our Robson residents got to see our own UNT Division I athletes in full blossom – and they didn't disappoint. The UNT Men's Football Team evened their series with RR, two wins – two losses, with a 20 – 4 shellacking of our RR Men; and our Robson Women outscored the UNT Women (mostly athletes from sports other than softball: track, soccer, volleyball, etc.) 7 – 4.
Let's go with highlights of the women's game first, since clearly the Robson women are better at competing than our Robson men. Liz Malone, former and future RR softballer, got things started by throwing out the first pitch. UNT's amalgamated athletes' team put a stake in the ground getting six hits and two runs off the bats of Amanda Tobolski and Lauren Norwood. Robson women countered by exploding for eight hits and five runs from their first nine batters. Alana Bingiel led off with a triple and Nancy Rogus, who was perfect at the plate, drove Alana home with a double – and so it began…
Welcome back Janet Elizondo, who homered, batted in three runs and was golden at shortstop. The Mean Green Ladies clawed back two more runs behind track star Chastity Stewart's home-run, but it wasn't enough to overcome our Robson Ladies: Coach Linda Caron, Dianna Johnson, Cindy Baker, Rebecca Cole, Donna Peck, Cerelle Kuecker, Sharon Deputy, Jan Goodwin, Kim Ashoo, Alana Bingiel, Nancy Rogus and Janet Elizondo. A shout-out goes to Troy Kuecker, who pitched for the RR ladies and Brad Killingsworth, who pitched for the UNT ladies faculty.
Longtime resident and softballer, Carlos Muniz, threw out the first pitch for the men and the rest was about appreciating young UNT athletes in prime condition. Local UNT product, LB Kyleb Howell from Lantana, hit two over the scoreboard to wow the crowd and Nate Brooks (DB from Whitehouse, TX) hit a triple, was on base every time and probably is still running. Robson outfielder Johnny Blecher kept the game close for one inning with his two-run dinger, but the speed and "gunslinger" arms of the young studs from UNT were something to behold. Bob Laderach had some fun taking a "dive" when he was hit by a pitch. Coach Pat Powers rushed the mound in mock anger and confronted UNT pitcher, Jason Murray, 6'9", 325lbs from Coppell, TX. Pat, who came up to just about Jordan's belly button, looked ferocious kicking dirt on Jordan's ankles while Bob Laderach had a little more common sense, opting to go around the mountain on the mound and confront a more reasonable 6' Nate Brooks, charging in from second base. Just like the big leagues, but all in fun, and a perfect ending to a humbling 20 – 4 thrashing by the UNT Football Team. Even so, our Robson Softballers held their heads high and brought the best out of these young athletes. Well done to Coach Pat Powers, Phil Wismer, Sam Cessna, Larry Brown, Paul Dorwaldt, Dale Hill, Mick Calverly, Ron Schwertner, Bill Wise, Bob Hoffenberg, Jim Hupp, Jeff Peck, Johnny Blecher, Mark Kellam and Bob Laderach!