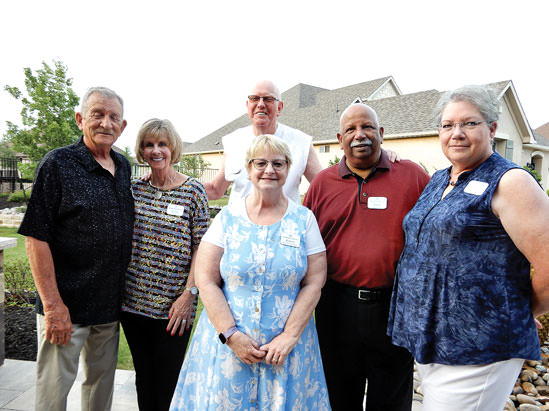 Rupa Mathur
The International Club continues to meet every month. Although the meetings are generally scheduled on the third Thursday of the month, we sometimes change the date and day to accommodate the host.
We held our March meeting at Lenie and Loren Christensen's home. Lenie made delicious Ropa Vieja (shredded beef) with bread rolls and coleslaw and the members brought appetizers and dessert. The April meeting was held at Rupa Mathur's house on Grandview, Rupa made an Indian appetizer called "Samosas" and Alfred made the European cake, members brought appetizers and desserts. Alfred's family was visiting us from Belgium and they enjoyed meeting the International Group.
In May we met at Karen and Marty Visser's house on May 24, which was a Friday. In spite of Karen having had surgery she met her obligation of having the meeting in her house. We were very appreciative that she did not cancel our get together. Everyone brought an appetizer and a drink of their choice. The June meeting was held at Rupa Mathur's house on Grandview. We had some new members at the meeting and were happy to have them join us.
We were sad to say good-bye to one of our longest time members, Anna-Lisa Anderson, who is originally from Sweden and has been living in Robson Ranch for approximately fourteen years. She will be shortly leaving us to move to Corpus Christi. We gave Anna-Lisa a small gift and a farewell card. We hope she will be as happy in Corpus Christi as she has been in Robson Ranch. Anna-Lisa was very instrumental in encouraging me to form the International Group in 2006. We started the club with a few ladies and generally held luncheon meetings once a month. However, as the membership grew, we decided to include the men.
We welcome residents living in Robson Ranch to join the club. In order to qualify to become a member, the resident can be single or a couple; in case of a couple, at least one member must be born outside of the United States and be of foreign origin. Our meetings provide a forum for members to share their culture, cultivate friendships, as well as provide support and understanding. To become a member please contact Alfred Van Gool at 214-212-5086 or [email protected]