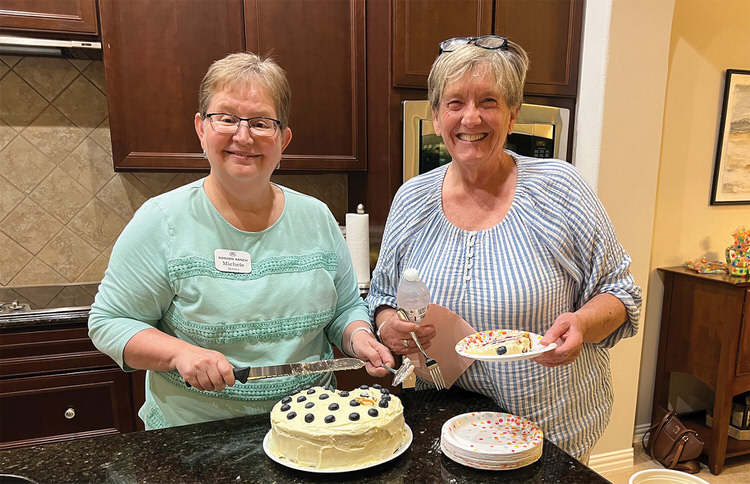 Deborah Williams
The Voices United (VU) membership held their monthly luncheon meeting on April 2. During that meeting, VU member Ginger Sheppard introduced Mindy Arendt, president and co-founder of the local non-profit Friends with Benefits (FWB).
Mindy provided VU members with an overview of what FWB is all about. FWB throws fun, affordable events that benefit other North Texas non-profits, organizations, and individuals in need. These events have included 5Ks, art exhibits, fundraising nights, music events, and other fun activities.
FWB's goal is to offer a way for everyone in the community to have an opportunity to give through entertaining and well-run events. The in-house programs FWB supports include North Texas Music Scholarship & Band DOLLA$, Cumberland Birthday Sponsorship Program, and Keep Denton Warm. They've also held activities with donations benefiting Habitat for Humanity, Denton Humane Society, Big Brothers and Big Sisters of Denton County, and Stop the Stigma, just to name a few.
For more information, go to FWB's website www.fwbdenton.com or email [email protected]
The VU Social Committee held its first bunco game night on Tuesday, April 12, at the home of Jan Lands. Twelve VU members joined the event, with the majority having never played. Some were concerned that it would be difficult to learn, only to find out how easy it is. Keeping track of what number is being played was the hardest rule to remember!
Jan and Michelle Kibler provided snacks and beverages for all the players. Michelle, however, outdid herself by bringing a "prepared from-scratch" lemon blueberry cake that had everyone begging her for the recipe.
Everyone had a great time. Three winners were awarded with chocolate prizes: one for the most buncos, one for the most wins, and one for the last person who held the "pink fuzzy die." It was decided that the VU bunco team would have monthly bunco play dates to be held on the second Tuesday of each month, with a different bunco member hosting.
VU is a non-partisan group of Robson Ranch women who share progressive values, perform community outreach, and provide civic awareness and social contacts for members. VU is a 501(c)(3) organization open to Robson Ranch residents. Visit our website www.voicesunitedrr.org or email us at [email protected]