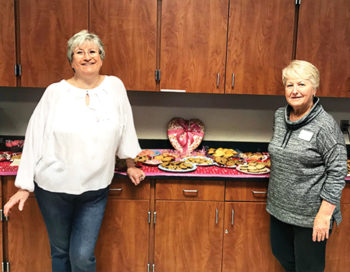 Lavelle Carlson
The After Schoolers of Robson Ranch is a busy group from September-May. We have two garage sales, a big food drive, and food and treats that support students at LaGrone Advanced Technology Center and Borman Elementary. Check out the picture of Marnita Torres and Pat Hamblin who set up all the sweets our members donated for all the teachers at the schools for sweets day. And, the members go on fun field trips without kids.
Garage Sale Date – April 18 (rain date April 25). So, yes, we are announcing to all Robson Ranch residents that it is time to clean out "stuff" that your children do not want and that you no longer have a big house in which to store it. You, as a resident of Robson Ranch, can purchase a spot and a table (limited number available) and sell your unwanted items. Or, if you prefer, you can donate the items to the After Schoolers. This garage sale is one of the best in North Texas with people coming from all over.
For those who want to rent a booth ($15, $5 for a table-limited number of tables) After Schooler members will be available in the clubhouse from 9-11 a.m. for booth and table registration on these dates: April 1, 6, 8, 13, and 15.
If you prefer to donate your items, we will send the information on the times and locations for the drop-off. We will also be picking up furniture (gently-used) but no clothes, electronic items, or large appliances.
For more information contact: Lavelle Carlson, [email protected], 512-818-4701; Christine Lovelace, [email protected], 940-218-0071; or Judy Riffel Karr, [email protected], 940-262-0160.