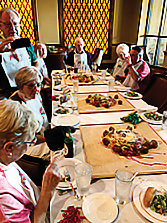 Mary Fabian
Spaghetti on the Board is one of the weirder of numerous weird Wisconsin folk food traditions, but it's one worth celebrating.
Twenty-one club members arrived at the Grill Lounge to find their spaghetti heaped in piles on a board. After a salad and breadsticks, we dove in, and spooned the meatballs and spaghetti on our plates. Jeremy and the staff had provided a similar dinner for the Italian Club and we borrowed the boards from Frank Cianci. It was a great success thanks to member DeeDee Karabetsos!
Robson Ranch Wisconsinites and friends come together occasionally for fun and camaraderie. The club usually meets twice a year for a Patio Beer party. They meet at their favorite "Packer Bar" in Roanoke to cheer for the beloved Green Bay Packers. The Brass Tap in Roanoke hosts the North Texas Tundra Packer fan club (started by the RR fans).
The club has met at a hometown favorite restaurant in Flower Mound. Culvers, a franchise restaurant from Sauk City, Wis. specializes in hamburgers and frozen custard. However, during Lent, they bring in Lake Superior Walleye. A traditional Friday Night Fish Fry.
Big 10 football brings us out for the Wisconsin Badgers and we hope to meet the Nebraska Club for a showdown on Nov. 20 at the Grill.
We welcome all ex-residents, ex-college grads of Wisconsin schools, and all family and friends that appreciate Wisconsin culture, cheese, and the Packers. Contact Mary Fabian for more information or to get on the mailing list at [email protected]
Our Oktoberfest Party will be on the Patio Oct. 30, 5 to 7 p.m., featuring the $3 beer keg and $10 brat buffet preceded by a fun 9-hole golf scramble and Texas Toss competition from 3 to 5 p.m. Reservations required.