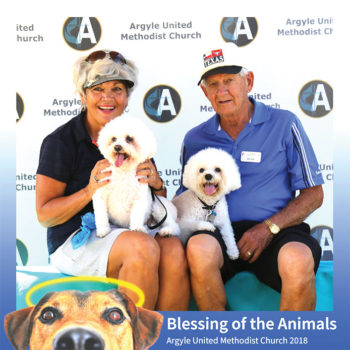 Angie Gay
After endless days of rain, the sun came out, the sky was blue with big fluffy clouds and there was a soft breeze under the shade of the trees. It was a beautiful day for a blessing.
The Happy Tails Dog Club and Argyle United Methodist Church celebrated St Francis Assisi's love of animals by performing a blessing of our beloved pets outside the Sports Center on Saturday, October 6, 2018.
Over 40 people brought their dogs (and photos of dogs) to be blessed by Pastor Chris Schoolcraft. Pastor Chris lead the group in a special prayer for the blessing of the animals. Following the prayer, Pastor Chris gave a personal blessing to each of the 30 dogs present.
After receiving their blessing, there was a photo opportunity for each of the dogs and their owners. The photographer worked patiently with each dog until she captured just the right shot to make a wonderful remembrance of the event.
Marilyn Melo said her little dog Roscoe did not want to leave. On the walk home, he turned around several times trying to return.
Yes, it was a beautiful day for a blessing.