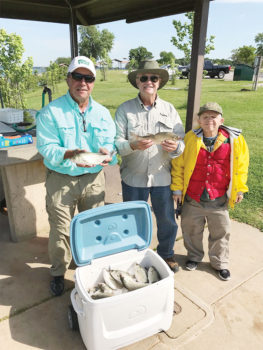 Scott Baker
We headed to Lake Ray Roberts, a favorite target for panfish fishermen, after the spring run to catch the feisty white bass which offer some exceptional summer angling action. The majority of the larger reservoirs in Texas are chock full of white bass (or sand bass or sandies), and we wanted to sample the North Texas lake's summertime fishing and inform anyone who was interested that they, too, might load a boat-full of sandies.
It's true that white bass are not among the most popular game fish around, but white bass fishing is a real blast and a change of pace during the summer months. Part of the fun of catching sandies is that they travel in schools, which means if you catch one fish, there are plenty more nearby. You can catch so many that you'll wind up going home with a sore arm. Once you find a school of sandies, it's possible to catch one on every cast for a few unforgettable minutes. Then you can pick up and find them again and repeat the process.
These one-, two- and occasionally three-pound fish will smack lures and flies quite readily if an angler is in the right spot, offering steady action and excellent table fare. Here in Texas, we are able to take 25 sandies and they have to be at least ten inches in length. What these fish lack in size they make up for in numbers. And not to disappoint, we reeled in 75 keepers in just 50 minutes!
If the fishing itch gets too intense to bear, give summer sand bass a try. Fishing for these sassy panfish is a sure remedy for what ails you. And you can take that to the bank. Or even better yet, to a deep fryer that is sizzling with hot peanut oil.
Interested in dropping a line? Plans are always in the works for fishing destinations to Lake Texoma (striper and bass), Lake Ray Roberts (crappie and bass), and Lake Tawakoni (catfish) among others. The RR Fishing Club meets the second Wednesday of each month at the Wildhorse Grill at 5:30 p.m. For any inquiries, comments or suggestions contact RobsonFishing@gmail.com or Scott Baker 214-334-7664.